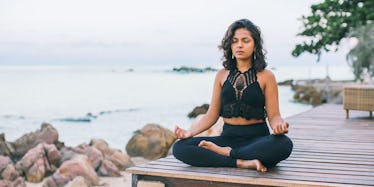 When Summer Has You Feeling Sticky & Gross, These 6 Yoga Poses Will Cool You Down
Listen, I love summer just as much as you do. But what I don't love so much is humidity, frizzy hair, and sweat — lots and lots and lots of sweat. If you ask me, there's nothing worse than when it's so hot outside that the mere act of standing is enough to make you break a sweat. Yes, you can chug water, wear a flowy shirt, and crank the AC up until your bills can't take it anymore, but when none of those things work, you can always opt for some yoga poses that cool the body to beat the summer heat. I know that anything that calls for more movement sounds like pure and utter torture when the temperatures crawl into the 90s, but seriously, hear me out on this one.
I'm not going to sit here and tell you that yoga, in and of itself, magically cools your body down. Unfortunately, it doesn't really work that way. But what yoga can do is help you navigate whatever it is you're going through by instilling a sense of discipline and reminding you that you're much stronger than you give yourself credit for.
Having said that, there are some breathing techniques that can help you feel a bit cooler in the summer heat (more on that in a bit). But when it comes to the actual, physical poses, it's all about using these movements to guide you through a state of being — even when that state is a little, you know, sweatier than you'd like it to be.