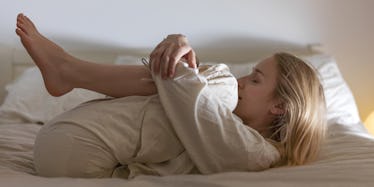 7 Yoga Poses That'll Keep You Warm & Cozy As We Slowly Transition Into Winter
Raise your hand if the thought of winter literally makes you want to curl up into a ball and hibernate for life. I'm the girl who turns her car's seat-warmer on high during a heat wave, so to say the least, cold weather f*cking hurts me emotionally. That's why when the temps start dropping, I make it a priority to include yoga poses for cold weather into my personal flow, as well as the classes that I teach to warm both mine and my students' bodies. (Plus, it's a low-key life hack to help keep us all from going bankrupt from ridiculous electricity bills.)
If you ask me, there's simply nothing good about the cold weather. Your nose gets perpetually runny, you try to convince yourself that sweatpants over leggings is a #look, and to top it all off, your joints and muscles get stiff and tense AF.
Enter yoga: your savior, your source of warmth, and your self-made internal space heater. You know when you take that first sip of a perfect cup of coffee on a chilly winter morning? That's what this yoga flow is going to feel like — a little slice of warm, soothing heaven.
These seven yoga poses will warm your body from the inside out to help you prepare for the cold weather ahead. Trust me, these movements will make you feel like you're wrapped up nice and tight in the warmest, coziest blanket ever.