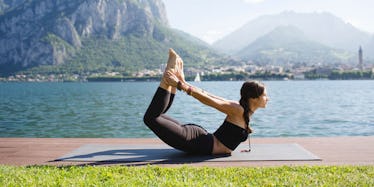 Try These 5 Yoga Poses When It Feels Like You're Having The Worst Day Ever
Everyone has days from time to time that can only be described in one word: "meh." It's on these days that it feels like literally nothing at all is going right, and no matter how hard you try to ~fake it 'til you make it~, you've low-key lost all hope that your mood is going to improve any time soon. Personally, when I'm stuck in a grumpy disposition, rolling out my mat and flowing through some yoga poses that boost your mood is an absolute game-changer (or day-changer, in this case).
If you're not-so-subtly rolling your eyes because you highly doubt that some stretching atop a rubber mat is going to cheer you up, don't worry — I was a non-believer, too, once upon a time. But according to Huffington Post, there's actually a lot of science behind the fact that yoga literally has the power to make you happier, even on the dreariest of days. When you're breathing and moving during the mind-body exercise that is yoga, HuffPost explains, you're tapping into your nervous system and retraining your body's triggers to its innate fight-or-flight response. Breathing deeply while you're flowing from posture to posture in a yoga practice activates your parasympathetic nervous system (the system in your body that allows you to be content and at ease), calming your body and releasing happy endorphins in your mind.
The thing is, practicing yoga consistently is what will really make you better equipped to turn that frown upside down during difficult situations. But for now, here are five happy-go-lucky poses you can start with to improve your mood when you're having one of those days.