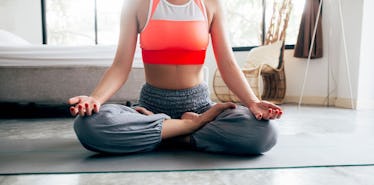 Experts Say Yoga Can Help Your Anxiety & These Are The Best Poses To Release Stress
I've struggled with anxiety for as long as I can remember, and it's been a long journey of figuring out effective ways to cope and live with this mental health condition. In college, I started going to yoga classes, and I fell in love with the calming, grounding effects of the practice on both my body and mind. At that point, I had no idea just how much yoga can help with anxiety, but over the years (and after eventually earning my teaching certification), I realized my daily time spent on my yoga mat was changing my life and becoming a huge asset in dealing with this oftentimes debilitating mental health issue.
Though it can often feel like something you're enduring by yourself, "anxiety disorders are the most common mental illness in the U.S.," according to the Anxiety and Depression Association of America (ADAA). And while treatments for anxiety, per the ADAA, can include various forms of therapy and medication, Dr. Bryan Bruno, medical director at Mid City TMS, a New York-based medical center focused on treating anxiety and depression, says yoga can be an incredible form of self-care to help your anxiety become more manageable. "Yoga can help benefit those with anxiety by quieting anxious thoughts," he tells Elite Daily. "Anxiety causes patients to hyper-focus on distressing thoughts. These negative thinking patterns generally go away when a person spends time practicing a meditative exercise like yoga."
Dr. Bruno also notes that a consistent yoga practice plays a big role in releasing bodily tension when anxiety causes your muscles to become tight or tense. "The tenser your muscles are, the more uncomfortable your body will be," he tells Elite Daily. "Bodily discomfort might lead to even more stress [in people with anxiety], but yoga postures are designed to help anxiety patients stretch these muscles."
If you struggle with anxiety and want to try calming your mind with some time on the mat, try these five poses to relax both your body and your mind.