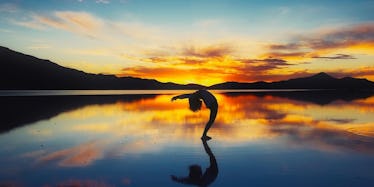 If You Always Go On Social Media When You're Stressed, Try These 5 Yoga Poses To Unwind Instead
Pixabay
There's no feeling quite like the one of returning to the sanctuary of your home after a long day. But we all know it can be impossible to actually relax once you get there. The stress factor after a busy, crappy day is so real, and TBH, most of us just scroll through social media as a way of "unwinding." However, doing yoga for anxiety and stress will be infinitely more effective than accidentally liking your ex's Instagram post from 2015 — trust me.
According to a recent study, the average millennial checks their phone about 150 times in one day. Anyone else feeling super uncomfortable with that statistic, or just me?
Honestly, these days, the attachment to all things technology is pretty damn rampant and hard to avoid, and for many of us, it simply feels comforting and natural to bring your phone right into bed with you to "de-stress." But Lystia Putranto from BookYogaRetreats.com tells Elite Daily that a recent survey conducted by her website found that 25 percent of a sample of more than 450 yoga practitioners not only acknowledge the negative effects of using technology too often, but they also admitted that doing just a few minutes of yoga each day helped them cleanse the toxic habit of scrolling to relieve stress. Moreover, that 25 percent said yoga is a far better strategy for stress management in the long-term than scrolling through social media for hours on end.
So, the next time you're tempted to cuddle up next to your glowing screen as a means of quieting your brain and body, ditch your device and nourish your body with these five juicy, restorative yoga poses instead.
Also, unfollow your ex. It's time.