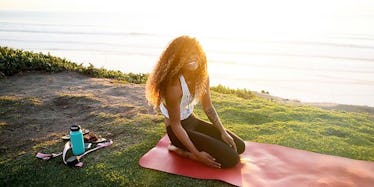 5 Unexpected Ways Yoga Can Make You Happy & Change Your Outlook On Life
As a passionate yoga instructor, when I tell people that I used to dread the thought of going to a yoga class and practicing mindful movement for an hour, they find it pretty hard to believe. But it's true: My restless mind used to constantly reject the ancient practice, and I always found myself opting for high-intensity exercise instead to move my body and ease my stress levels. Though it took me a while to truly see how yoga makes you happy, I've come to learn that there are countless mental and physical advantages to practicing this type of exercise, and that I'd spent too much of my time missing out on them.
Between reducing stress levels and cultivating a greater sense of self-awareness, there's not much that this mind-body exercise can't do for you. Whether you're dedicated to a daily practice, or you simply bask in all of the feel-good endorphins that come with the occasional trip to your local studio, there's something so rejuvenating about carving out some quality time on your yoga mat. While the practice obviously feels amazing for your physical body, it also has the ability to totally shift your perspective and change your outlook on life, especially if you find time to flow as often as possible.
So, if you think you know everything about the benefits of yoga, think again. Here are a few unexpected ways in which the practice can make you feel truly happy from the inside out.