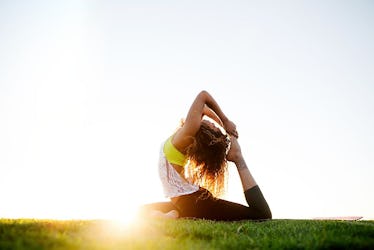 8 Yoga Poses That Make You Happy When The Cold Weather's Bumming You Out
Some people are enamored by the first "magical" snowfall of winter, and those people happen to be the reason why I have trust issues in life. Everything about the cold makes me absolutely miserable, and I can't wrap my head around the idea of people actually liking, or even looking forward, to the cold weather. If you feel me on a spiritual level here, these yoga poses that make you happy are sure to keep you going through these dreadfully chilly months.
Whether it's the snowfall bumming you out, or you're simply feeling blue in general, yoga is an amazing way to lift your spirits and turn around a totally "blah" day. A few minutes of flowing and deep breathing on your mat activates your parasympathetic nervous system (which is part of your "involuntary" nervous system that helps you chill out) and causes a rejuvenating sense of peace and serenity to wash over your mind and body.
When you're feeling down in the dumps, and you really don't feel like making the frigid trek to the gym to get those feel-good endorphins pumping, sink into some of these meditative yoga poses instead for a soothing, warm, instant dose of happiness.