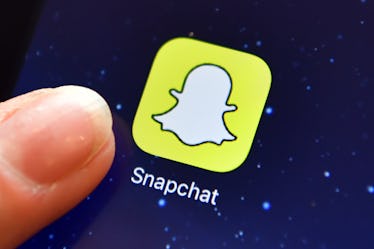 The Results Of Snapchat's Easter Egg Hunt Prove We're All Still Kids At Heart
Carl Court/Getty Images News/Getty Images
If you were ever into Pokemon Go! there's a pretty likely chance that you participated in Snapchat's Easter Egg Hunt. The game was a worldwide craze, taking players out from their homes and around their neighborhoods to catch as many characters as they could find. So upon the launch of Snapchat's holiday egg hunt, some of us were truly curious as to what numbers the game would produce. Now that they're finally in, the results of Snapchat's Easter Egg Hunt prove that, deep down, we're all a bunch of kids.
According to Snapchat, a whopping 59,692,012 eggs were collected in the hunt, with the most popular location being Times Square in New York City. More than 2 million eggs were acquired in each of several other top-scoring locations like Los Angeles, Houston, and Chicago; and other cities like Toronto and Dallas trailed closely behind. The killer, though? There were 144,034 people who collected more than 100 eggs in just a few days. Clearly all of us had no shame in letting our inner child out over Easter weekend.
The game started on Friday, March 30 and went until 9 p.m. PT on April 1. Upon logging into Snapchat on March 30, users noticed that their Snap Maps were filled with tiny, colorful eggs — and the game began! The goal was to get gamers to explore their neighborhoods to find as many eggs as they could before their time ran out on April Fools Day, aka Easter Sunday.
Similar to how it was when we were pre-teens scouring over our neighborhoods for Peeps and other festive treats, the eggs were placed in popular places like coffee shops, parks, stores, airports and school campuses. When gamers got close, they'd be able to tap the egg and collect it for a point. But if they were really lucky, in some cases, players could also find rare, five-point golden eggs in various locations on their maps. (I had zero luck there.)
All in all, the game definitely made for great, friendly competition: players were able to see not only where their friends ranked in the game, but also were the rest of the Snapchat community placed. Super sweet, right?
If you had any reservations about being judged for spending three days traveling throughout your neighborhood in search of animated Easter eggs (can't relate), there was also a privacy option for players to use that would hide their location. Gamers could play in Ghost Mode, which would hide their location and score from their friends, making it an experience that you couldn't really help but indulge in.
The Easter Egg Hunt was just one of Snapchat's many holiday makeovers for its Snap Map. In February, the app celebrated Valentine's Day with a classic, romantic aesthetic and in October 2017, it debuted a spooky, new layout in honor of Halloween.
When the Snap Map first made its debut back in June 2017, Jack Brody, a product designer at Snapchat, spoke with Refinery29 about the purpose of the new feature and his comments are clearly still spot-on. He said, "In a lot of ways, we're taking what a map is and turning it upside down. This map isn't about where am I, it's about where are my friends and what are they up to? It's not about figuring out how to get to your destination, but about discovering where you want to go."
Personally, I can't wait to see what they come up with for future holidays. Imagine if we could tap on animated Christmas presents and collect a digital gift card or something. Or even on our birthdays. (!!!) That'd be soo awesome and a definite way to keep the Snap Map alive. Actually, someone puhleeze point me in the direction of where I can pitch this idea. Thanks in advance.