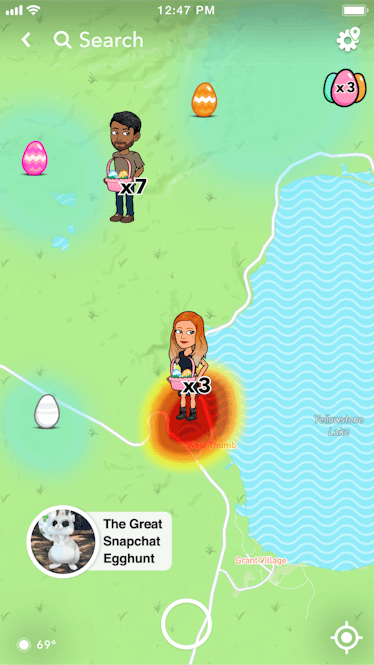 You Can Play Snapchat's Egg Hunt Game In Ghost Mode, But It's Not As Competitive
If you haven't yet heard, Snapchat is celebrating Easter with an awesome new update for this weekend only. The "Great Snapchat Egg Hunt" is a cyber egg hunt in Snap Maps that is only here until Easter night. Part of the fun is collecting as many eggs as possible in order to see yourself climb up the leaderboard, but you'll have to share your location with at least a few friends to really have a competition. You might be wondering if you can still get in on this festive egg hunt even if you're into a more low-key Snap Map life. So, can you play Snapchat's egg hunt game in Ghost Mode?
The good news is that everyone can get in on the egg hunt action no matter what your Snap Map settings, per the release from Snapchat. If you're competitive and look for any victory to gloat about whenever you're given the chance (why win if you can't brag about it, right?), then Ghost Mode might not be for you. Then again, if you're not all about sharing your location as you collect cyber eggs on the Snap Map this Easter, then Ghost Mode is the perfect solution. Plus, you can always screenshot your score so you have the receipts if someone dares to question your egg hunt skills.
No matter what mode you choose to play the Great Snapchat Egg Hunt, you'll want to keep in mind that it only lasts from Friday, March 30 until Sunday, April 1 at 9 p.m. PT. When you open your Snap Map during the weekend, you'll see colorful cyber eggs that are hidden all across whatever city you're in. To collect them, you need to physically go near the location on the Snap Map, and then you tap the egg on the Snap Map once you're there to collect it for a point. There is also a rare five-point egg somewhere in the hunt, so keep an eye out for that one. I have a feeling your well-honed Pokemon Go! skills will really come in handy this weekend.
If you're in Ghost Mode and not sharing your location while using Snap Map, only you'll know what your score is. If you want to turn it into more of a competition, you can always select certain friends to share your Snap Map location. For example, if Easter is oftentimes filled with awkward conversations with relatives whom you only see a few times a year, you could organize a family-wide competition of the Great Snapchat Egg Hunt. Of course, you'll have to come up with your own prize for the family member with the highest end score, so might I suggest giving the winner free reign to collect any and all Easter candy from the family that might please their palette (hello, all the Reese's Peanut Butter Eggs)?
While a family egg hunt competition (and endless bragging rights) is a fun way to celebrate the holiday, you might still be nervous about sharing your location on Snap Map. Remember that it's totally up to you which friends can see your location while using Snap Map. Per the release,
You can choose to share your location with all your friends, just a group of selected friends, or you can even turn on Ghost Mode when you want to go off the grid.
No matter how you share your location in Snap Map, everyone has to follow the same rules to earn points. Don't worry about rushing to your local coffee shop to snag the egg you see on your Snap Map, because the egg hunt is not a race. The eggs will be in the same locations all throughout the weekend, and an egg will not disappear from your Snap Map just because a friend got there first.
So whether you're playing in Ghost Mode or crushing the (mostly friendly) competition with the friends who see you on Snap Map, you should definitely add the Great Snapchat Egg Hunt to your Easter calendar this weekend.