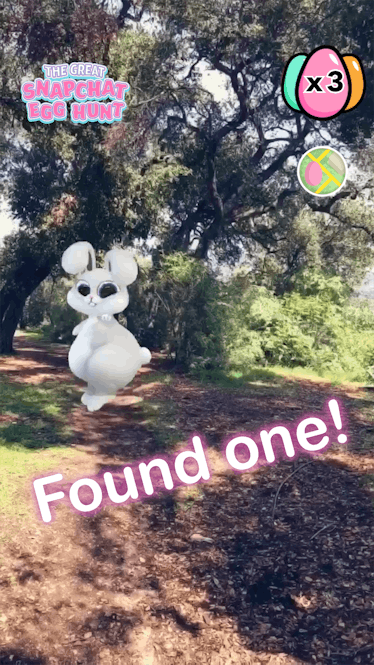 Snapchat's Easter Egg Hunt Won't Last Forever, So Start Looking For Eggs
If you're not looking forward to celebrating Easter this year, then Snapchat has some very fun news for you. For a limited time only, you can get out of the house for a virtual Easter egg hunt that will definitely give you flashbacks to your summer of Pokemon Go! So, how long will the "Great Snapchat Egg Hunt" last?
Since this egg hunt is very much themed around the Easter holiday, you can probably guess how long it will be here. The eggs will be gone by Easter night at 9 p.m. PT, but the fun has already begun so you can start searching ASAP. That's right, the Great Snapchat Egg Hunt is from Friday, March 30 until Sunday, April 1, and it's available for iOS and Android users in the United States and Canada.
Now that you've made room in your Easter weekend calendar for some good old fashioned cyber egg hunting, you'll probably want to know what you need to do to crush the competition. First, you'll have to be in Snap Map in order to collect the "hidden" eggs at public locations like coffee shops, college campuses, and airports, per the release. For clarity, there are no actual eggs to be found at these locations — you'll collect cyber eggs when they pop up in your Snap Map once you're close to them.
I'll be honest that when I first heard about the Great Snapchat Egg Hunt, I thought for a split-second Snapchat may have gone totally above and beyond hiding those plastic eggs from your childhood egg hunts all across the country (but obviously that would have been an over-the-top task with the amount of Snapchatters using the app). Thankfully, the cyber egg hunt is actually just as fun as the ones where you'd load up on Peeps.
Instead of sugar-coated marshmallow chicks, though, you'll collect points in the Great Snapchat Egg Hunt. Each egg is worth one point, but there is also a rare five-point egg for which you'll want to keep an eye out. You'll know how well you're doing by looking up at the score in the right-hand corner of your Snap Map. You'll see your rank among your friends and the entire Snapchat community. If you'd rather participate without sharing your location, you can still collect eggs in Ghost Mode, and your score will only be visible to you.
Even if you've now added the Great Snapchat Egg Hunt to your calendar for the next three days (guilty), you might be worried that you won't make it to the locations in time to snatch the cyber eggs. Rest easy because Snapchat made it clear that this is not a race, per the release. The eggs will be hidden in the same spots throughout the weekend, and they won't disappear from your Snap Map even if a friend has collected it first. So don't rush through Easter dinner only to cramp up on your egg hunt 20 minutes later because the eggs will be there until 9 p.m. PT on Sunday, April 1.
Now if you've been a little light on your Snapchat usage lately, you might need a refresher on how to get to the Snap Map (I definitely did). There are a few ways to get into the Snap Map feature, so you're sure to figure it out in time to take a crack at the egg hunt (sorry, I couldn't end it without at least one egg pun). Personally, I find it easiest to tap the search icon in camera mode and then enter the Snap Map.
Snapchat also reminds you to stay safe during your egg hunt while using Snap Map. Per the release, "You can choose to share your location with all your friends, just a group of selected friends, or you can even turn on Ghost Mode when you want to go off the grid."
Now that you know exactly what you need to do to make this holiday weekend the most fun you've had during Easter since you were sporting an Easter bonnet, you can enjoy the Great Snapchat Egg Hunt from now until Sunday night. Happy cyber egg hunting!