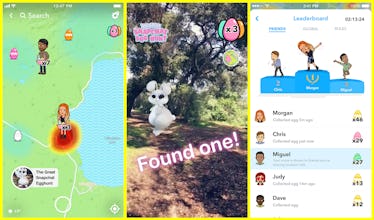 The "Great Snapchat Egg Hunt" Is Here, So Start Looking For Eggs On Snap Map
Snapchat
While hanging out with family and eating endless amounts of food seems like a typical, mellow way to spend Easter, there is truly nothing better than getting hyper-competitive amidst a good old fashioned Easter egg hunt. And even though it's probably fun to kick all of your younger cousins' butts while finding those tiny candy-filled eggs, you can now find them on your Snapchat screen. So, why are Easter eggs on Snap Map? You can actually partake in a real life egg hunt through the app, and it's definitely where the fun is at this year. The best part is that it lasts for a good three days.
As of Friday, March 30, you will most likely notice that your Snap Map is decked out in little colorful eggs. Although they look adorable and festive, however, they are not merely decorative. According to a press release, you'll get a chance to physically explore your neighborhood on Snap Map with a goal to collect as many cyber eggs as possible before the clock strikes 9 p.m. PT on April 1. Evoking Pokemon Go! vibes, eggs will be available in public areas from coffee shops, to stores, parks, and even college campuses. The same eggs that show up on your Map will show up for everyone else, so it's definitely a fun thing to do alongside all of your friends. Sounds pretty sweet, right?
If your weekend is filled with a lot of required family time, you're in luck, because eggs will not disappear as your friends collect them, per the release. Until time runs out, you will have the chance to collect each egg shown on the Map, regardless if your friends have gotten them already. And while most eggs are valued at one point, there's one golden egg, which is valued at a hefty five points. You can see your score in the upper right corner, along with where you rank against your friends and the rest of the Snapchat community. It's a nice way to bump up the competition this Easter weekend... and as a Jewish gal who rarely has the opportunity to get in on some of that solid Easter egg fun, I finally get to participate in an egg hunt. TBH, I am beyond hyped for this... y'all have no idea.
The Augmented Reality (AR) technology behind the Snap Map Egg Hunt is honestly pretty amazing. When you're close to an egg in person, you'll be able to see the egg through the rear-facing camera, according to the release. It'll look like it's actually right in front of you, and you'll be able to tap the egg on your screen. Then, it'll be added to your score. You might end up with the highest score out of all your friends', and that's the best part of Easter, isn't it? I'm not competitive, you're competitive.
If you're typically into the idea of staying in Ghost Mode, have no fear, because you can still get in on the hunt. Your score, however, will only be visible to you. When you're in Ghost Mode, your location can't be seen on the Snap Map.
So if you were wondering how exactly you were going to be spending your Easter (and also Passover) weekend, look no further — because you can explore your neighborhood and collect mad Snap Map eggs. While I'll undoubtedly come out as the overall winner, it's still fun to casually play. And even though the hunt won't end in copious amounts of candy like most egg hunts do, it's fun to get in the spirit of the holiday, and that's all that really matters, right?