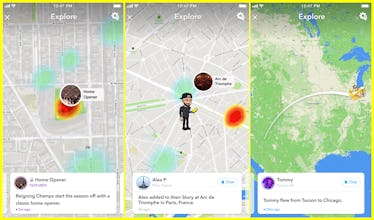 Snapchat's New "Map Explore" Feature Makes It A Lot Easier To Stalk Your Friends
Snapchat
Snapchat is great for a lot of things. You can talk to people, see what's happening around the world, and — most importantly — you can stalk your friends. If you haven't already used Snap Maps for one reason or another, it's a great tool to see where your Snapchat friends are at all times (as long as they've opened the app within the last eight hours and if they have Snapchat's location turned on). But if you've heard anything about the app's latest update, you might be wondering what Snapchat's "Map Explore" feature is... and trust me, it's so much fun.
I don't know about you, but I feel like my AIM "away messages" were so embarrassing back in the day. Whether I was quoting an angsty song or an inside joke, telling everyone what I was doing at all times, or passive aggressively calling someone out, "away messages" were, um, always pretty interesting. Now that I'm not in middle school, though, having an away message-type feature could be pretty sweet, especially if it's on Snapchat. That's basically what Map Explore is, but the best part is that no additional effort or creativity is required.
On Thursday, March 22, Snapchat introduced their new Map Explore feature. Not only will Snap Maps continue to be useful for allowing Snapchat users to see where their friends are, but it'll now also show a text update on the Snap Map that explains what it thinks users are doing. The user doesn't actually have to do anything for Map Explore to make an update, because Snapchat merely predicts the activity based on the user's location. It's kind of genius, if you think about it.
Map Explore updates can be generated in a few different ways, according to a press release. Travel updates are created when it appears that the user is traveling. Whether they're flying somewhere, if they're on the road, or even if they're using a specific Geofilter, Map Explore will create a simple update such as "flying out of JFK International Airport." It also creates location updates, which updates the user's status based on their location. Whether they're at the beach, at the mall, or if they're skiing, the app will update their activity based on their location. Finally, Map Explore will create breaking news updates and major cultural moments happening around the world based on where the user is. It's a wildly personal feature which'll definitely start a few fights for some people, but it's a completely unique way to further connect with friends. The fact that it requires no extra effort, though, makes it that much better.
If you weren't paying attention to Snap Maps the other day, they totally came in clutch during the #Enough National School Walkouts. They made it super easy to watch high school walkouts on Stories nationwide for users who wanted to get in on the action. Once users navigated to the the Snap Map, they could see various school walkout Stories from all around the country. As someone who doesn't work and already graduated from school, it was a pretty awesome feature to see what was going on... and I personally applauded Snapchat for doing it.
Although I miss AIM on a regular basis, I can now finally feel like I'm using it again. Although it's a little creepy to literally see exactly what people are doing at any given moment, Map Explore is a pretty cool new feature. Since it shows users what their friends are doing whenever they're visible, it's definitely bound to cause a few fights though, if you catch my drift.