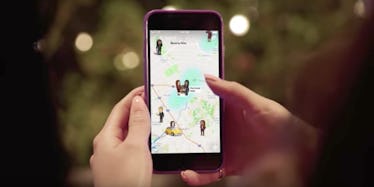 New Snap Map Shows You Where Your Snapchat Friends Are IRL With Cartoon Map
YouTube
Snapchat's latest feature, dubbed "Snap Map," is about to make location stickers a thing of the past.
Why? Because instead of just reading about where your buddies are with a fancy city-named stickers attached to their Snaps, you'll be able to actually see where they are on a map in real time.
I'm not sure if this is creepy or convenient -- but either way, it's pretty cool.
As you can see, the cartoonish screen shows pictures of your friends' Bitmoji characters on a map, revealing their live locations attached to their Snapchat stories.
It's perfect if you're curious about where your friends are and what they're up to based on their Snapchat activity, whether you're searching for a group activity or a solo hangout.
Jack Brody, a product designer at Snapchat, talked to Refinery 29 about the update's purpose. To be completely honest, it seems pretty awesome and I'm excited to give it a try.
He said,
In a lot of ways, we're taking what a map is and turning it upside down. This map isn't about where am I, it's about where are my friends and what are they up to? It's not about figuring out how to get to your destination, but about discovering where you want to go."
So, how exactly does the feature work?
Apparently, in order to use the new location-based screen, you must first update your Snapchat app and get access to the feature.
Then, you have to pinch your fingers together on your home camera screen. This will give you a few privacy options that will let you choose whether or not you want to share your location with your Snapchat friends.
According to Tech Crunch, you'll have the option to share it with all of your buds, only a few, or none of them at all.
If you don't want to share you're location with anyone, you can choose Ghost Mode -- or, you can refrain from using the app for a few hours (we know that's hard to do, though).
Once you've opened your Snap Map, you'll be able to lurk on all of your friends who have given you access to do so.
The map will allow you to click on your friends' Bitmoji characters (apparently, they're called "Actionmojis" in the app) which will allow you to view their stories and send them messages.
If you're super curious of your Snapchat friends' whereabouts, make sure to update your app and take a look at the map.