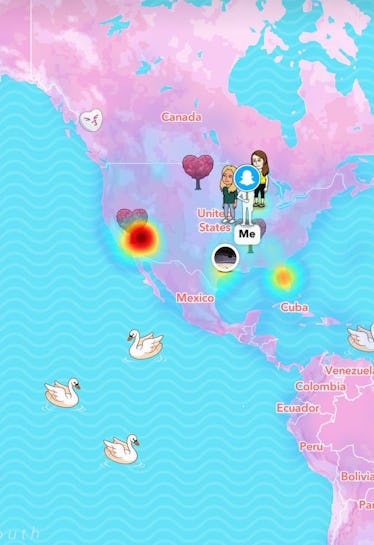 Snapchat Changed Snap Map For Valentine's Day & The New Look Is So Romantic
Snapchat
Snapchat is always here to make your holidays a little bit better. Whether they're sending you a fun Snap from Team Snapchat, or decorating Snap Map to coincide with the festivities, there's no doubt Snapchat will bring a smile to your face on certain days of the year. On Feb. 14 (the holiday you may or may not call "Valentine's Day"), Snapchat totally revamped Snap Map and made it more romantic than ever. Spoiler alert: Snapchat's Valentine's Day Snap Map is pink, and it's covered in tons of cute animations.
You read that correctly. Say goodbye to the normal green land you've become accustomed to, because the virtual Snap Map world is different shades of pink. The water is still blue, but there are romantic swans floating around in it (obviously). You'll also notice adorable candy hearts randomly placed on the map, and even some adorable teddy bears holding hearts. That's not all, though. The Valentine's Day Snap Map also features pink heart-shaped trees. (TBH, I kind of wish pink hear-shaped trees actually existed. They're so cute.)
FYI: You'll have to zoom out of your Snap Map a little bit before these features appear. I didn't see them at first, but saw them immediately after pinching the screen a few times.
As you zoom in and out and scroll around a bit, you'll quickly start discovering a ton of romantic new secrets in the map. If all these cute features don't inspire you to check out Snap Map on Valentine's Day, then I don't know what will.
This isn't the first time Snapchat revamped Snap Map for the holidays. Snapchat has made this pink makeover an annual Valentine's Day tradition, and also changes things up for Halloween each year. Instead of blue water and green grass, the water on Halloween was orange and the land was black. Actionmojis celebrated the spooky time together by standing around witches cauldrons and riding broomsticks. Snapchat has since done a similar update each year to the Snap Map on Halloween.
Of course, Snapchat's Valentine's Day Snap Map is anything but creepy. Whether you're checking to see what your friends are doing on the romantic night, or sending a cute Snap to your bae, Snapchat won't disappoint.
This article was originally published on