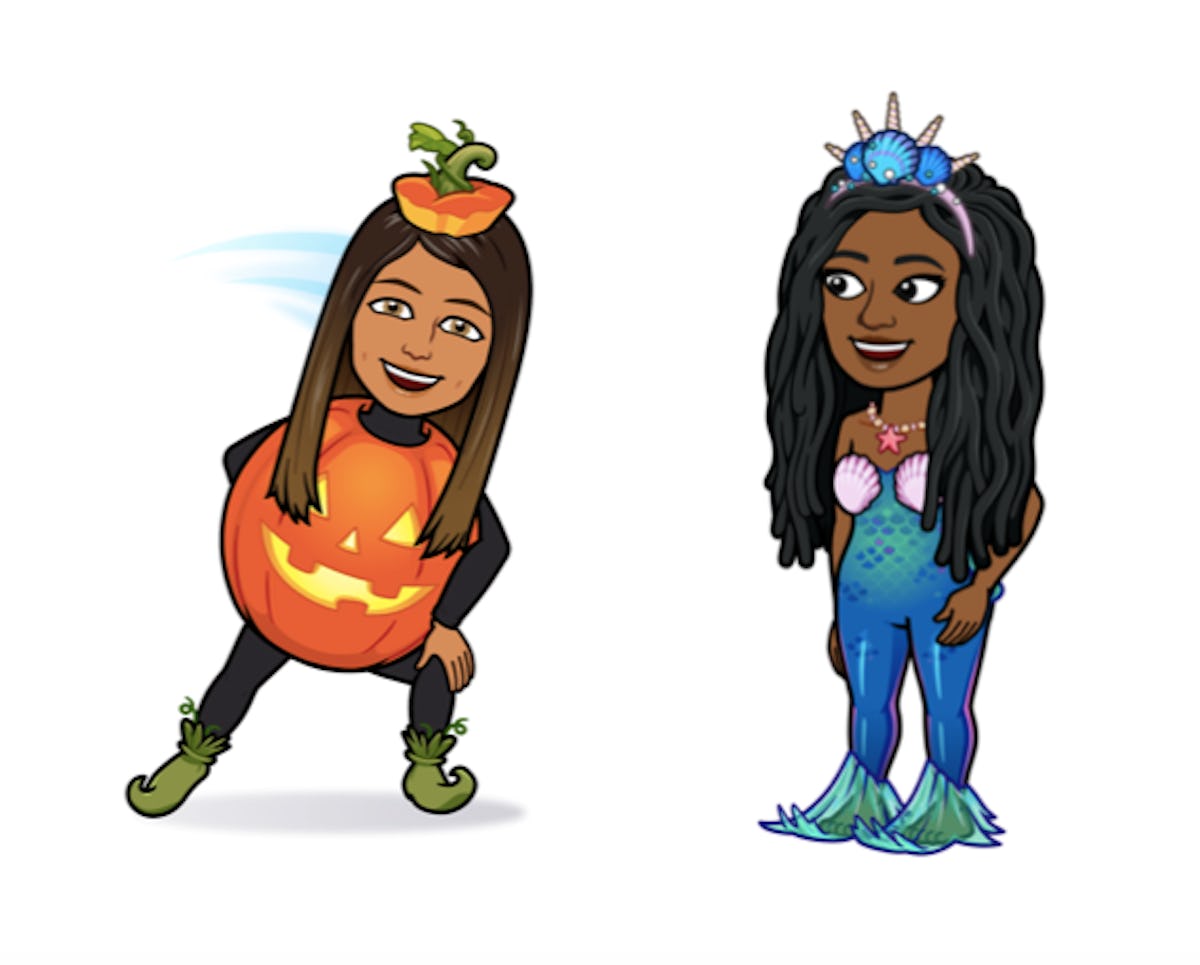 There Are 3 New Bitmoji Halloween Costumes On Snapchat, Including A Glittering Mermaid
Courtesy of Snap
With Halloween right around the corner, you're probably busy perfecting your costume. While planning your Hallo-look, you might also want to take a few minutes and get your Bitmoji in the spirit — it's a mini you, after all. If you've never given your avatar a digital upgrade, here's how to use Halloween Bitmojis on Snapchat to make spooky season even more interactive.
The social media platform brought back a bunch of 3-D Bitmoji costumes in the app, according to Snap. Plus, there are three new Bitmojis you can try out for 2020: a jack-o-lantern, a robot, and a mermaid. These are all in addition to classic looks like a witch and a black cat. The fun looks will be available on Snapchat and the Bitmoji app through Saturday, Oct. 31.
Because they're 3-D, you'll be able to see every spooky angle of the costumes. Say, for instance, you dress up your Bitmoji as a mermaid. You'll be able to use your 3-D Bitmoji World Lenses to show off the aquatic version of yourself. To change your Bitmoji's outfit, you can open in Snapchat or the Bitmoji app. In Snapchat, tap on your Bitmoji avatar in at the top right of your screen, then scroll down to the "Change Outfit" tab. From there, you can choose from the Halloween costumes and pick whichever spooky 'fit you like.
But that's not Snapchat's only exciting Halloween update. The company is also due to revamp Snap Map with Halloween colors similar to years past. In 2019, the Haunted Snap Map was also dotted with black cats, jack-o-lanterns, and candy corns, and it paired perfectly with the Bitmoji costumes, so fingers crossed it's back this year. If it comes back, the Haunted Snap Map will switch on automatically, and it has some pretty cool features, like your Actionmoji riding a broomstick instead of driving in a car.
There are also plenty of Halloween-themed Snapchat Lenses in the app, so don't stop at your Bitmoji when it comes to dressing up your Snapchat app for ~spooky~ season.
This article was originally published on