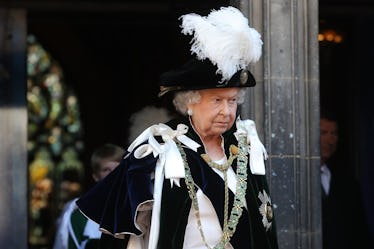 The Queen's Supposed Reaction To Thomas Markle's Antics Is SO Relatable
Chris Jackson/Getty Images Entertainment/Getty Images
ICYMI, Meghan Markle's first couple months as a royal have been plagued by a stream of damaging interviews and comments from her father, Thomas Markle, and half-sister, Samantha Grant. Things have only been getting worse, with the Duchess of Sussex's father recently comparing the royals to a cult. Whelp. As you can imagine, Buckingham Palace is not here for any of that, and the Queen's supposed response to Thomas Markle's antics is so relatable, TBH.
According to a a new report from The Sunday Times, Meghan Markle and Prince Harry have ceased contact with the 74-year-old until he comes around and contacts them in a "respectful manner," per an inside source that's close to Prince Charles. Elite Daily reached out to Kensington Palace for comment on whether the Meghan and Harry are in contact with Markle but did not hear back that the time of publication.
"Meghan doesn't think it's a fair game between her father and the media so she's not going to engage in it or instruct anyone on her behalf to set the record straight," the insider explained to the publication.
In the meantime, the royal family is backing Meghan up by cutting him off, and from the sounds of it, Queen Elizabeth is totally over the situation.
"I suspect the Queen will be rolling her eyes and thinking: crikey, what is going to become of all this?" the insider said to the publication. Elite Daily reached out to Buckingham Palace for a comment on the Queen's response to Markle's recent comments but did not hear back at the time of publication. TBH, I can totally relate to the Queen's supposed response of "rolling her eyes" at Markle's string of wild interviews. Considering that Mr. Markle recently likened the royal family to Scientologists or the Stepford Family in an interview with The Sun, said that "...it'd be easier if I were dead" in a sit-down with The Daily Mail, and leveled a handful of other cringeworthy accusations toward his daughter and her royal family, a reunion doesn't sound like it's going to happen anytime soon.
Luckily, the Duchess of Sussex has no shortage of supporters in the royal family, as she's reportedly become closest with the longtime monarch as well as sister-in-law Kate Middleton, Duchess of Cambridge, since she married Prince Harry in May.
According to Vanity Fair, Middleton has been a "pillar of support" while Meghan and her father have been on the outs, while the Queen personally invited the new duchess to a one-on-one trip to Cheshire back in June to help Meghan learn the ropes of being a royal as well as to unwind from the tabloid drama. Considering that the royal family is no stranger to the rumor mill, I can only imagine how supportive they likely are of the former Suits actress, as she now deals with the drama of being in the spotlight.
Unfortunately, it doesn't look like things are changing between Markle and his daughter anytime soon, even though sources have said that Markle could get in contact with his daughter and talk privately if he wanted to simply swallow his pride and contact his ex-wife, Doria.
"There have always been fears over [Thomas Markle's] vulnerability," the source explained to The Sunday Times. "Now he's got himself into a cycle of talking publicly. It's very sad."
Honestly, my heart has been breaking for Meghan ever since her father staged paparazzi photos ahead of her May 19 wedding. Fresh off her fairytale nuptials to Prince Harry, she should be living her best life as the Duchess of Sussex right now. Sadly, she also has to constantly field never-ending bombshell interviews from her dad and sister. On the bright side, Meghan has the Queen and the entire royal family in her corner as they deal with the fallout of the fiasco. I mean, if you have the Queen supposedly rolling her eyes at the situation in solidarity with you, then you know she really has your back.