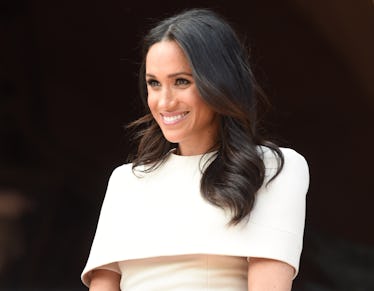 The Two Members Of The Royal Family That Meghan Markle Is Closest To Will Melt Your Heart
WPA Pool/Getty Images Entertainment/Getty Images
Meghan Markle has been the Duchess of Sussex for nearly three months now. Her relationship with Prince Harry, Duke of Sussex, seems as happy as ever, but today we're here to talk about the members of the royal family she's closest with outside of her husband. People reports that the new royal has gotten particularly close with two members of the royal family, and you probably won't be surprised to hear that those two members are Kate Middleton, Duchess of Cambridge, and Queen Elizabeth. Meghan Markle's relationship status with the Queen and Kate Middleton is apparently super positive, supportive, and loving, so if you'll excuse me, I'm going to go weep a little bit from the joy.
The Crown's historical consultant, Robert Lacey, told People that the Duchess of Sussex has become closest with her sister-in-law and Harry's grandmother. That tracks, seeing as the two duchesses have gone on lots of outings together (most recently, Wimbledon) and the Duchess of Sussex has already gone on her first solo official event with Queen Elizabeth. "What's characterized these months are the two great relationships that she has struck up with the Queen and with Catherine," Lacey said. "They seem to be her closest friends and partners in the official set-up." Elite Daily reached out to the Palace for comment on these claims, but did not hear back by the time of publication.
He continued,
Harry gave the clue to it when in the [engagement] interview he talked about how well the corgis had taken to her instantly. That seems to be a metaphor for the Queen and everybody else has taken their cue from that.
It's easy to tell that Meghan is close with Kate and Queen Elizabeth. Meghan and Kate recently attended Wimbledon together to cheer on Meghan's close friend, Serena Williams.
Vanity Fair reports that Kate has been a "pillar of support" in the middle of the chaos her father, Thomas Markle, has been causing. A source told the outlet that Meghan is just about "at her wit's end" with her father's incessant complaining in the press. (Girl, I don't blame you. Neither does Chrissy Teigen.) Kate has been there to support her through the whole thing. "Kate's well aware of what Meghan is going through," the source said. "Her family has been dragged through the tabloids and she knows it's not nice. She's made a big effort to be kind to Meghan and look out for her."
The source added that while they don't see each other every day, they hang out at least once a week outside of their royal appearances. "Kate's made a real effort to be kind to Meghan and to include her," the source revealed. "They're quite different characters but they get along well." They continued,
They speak on the phone and Kate makes a point of inviting Meghan over. I'd say they try to see each other once a week, sometimes with Harry, sometimes Meghan goes on her own. Kate's really busy juggling three kids; she has a lot on her plate and she has her own friendship group, but she has made an effort with Meghan. She's been very sympathetic to what's been going on with Meghan and her dad.
Elite Daily reached out to the Palace for comment on this report, but did not hear back by the time of publication.
Meghan's relationship with Queen Elizabeth is a happy and positive one as well.
The queen has reportedly taken Meghan under her wing to help her learn the ropes of royal life from an expert. Queen Elizabeth and the Duchess of Sussex's trip to Cheshire back in June was a trip the queen invited Meghan on herself. According to The Daily Mail, the queen could tell how stressed Meghan was between balancing adjusting to her new royal life and the drama with her family, so she wanted to comfort her by bringing her to Cheshire. "The Queen's thinking is simple," a source told the outlet. "She wants to put her at her ease."
We must protect all three of these precious women at all costs.