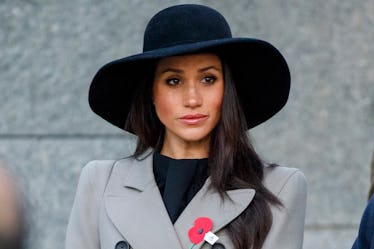 Meghan Markle Will Reportedly Only Speak To Her Dad Again Under One Major Condition
WPA Pool/Getty Images Entertainment/Getty Images
Meghan Markle's relationship with her father has been a public fiasco all thanks to Thomas Markle's incessant interviews with the press that can't be described as anything but ornery. The royal family has stayed silent in reaction to his, Samantha Markle's, and Thomas Markle Jr.'s interviews disparaging Meghan and the family, and that only seems to anger the Markles more, so they keep on doing interviews trying to p*ss Meghan off to the point where she finally speaks to them. But Meghan Markle's reported reaction to Thomas Markle's latest interviews makes it clear that there's a simple way for her father to get in contact with her, if only he would get over his pride and stop doing interviews.
According to Daily Mail, Meghan would speak to her father if he would just reach out to her privately, directly, and most importantly, respectfully. And the source notes that Meghan knows her father has easy access to her through her mother, Doria Ragland, but he just won't use that outlet. Kensington Palace declined to comment on this report.
The source said, "Despite Thomas's claim that he has no way to reach Meghan, he knows that her mother Doria is in touch with her and Thomas knows how to reach Doria." They continued,
If Thomas truly wanted to speak with Meghan, he could easily have sent a letter to her mother and asked her to pass it along. Unfortunately that wouldn't sell papers or fit into his fabricated and salacious narrative.
The source laid plain that Meghan is happy to speak with her father and try to reconcile after he missed her wedding as a result of having a heart attack (which a friend close to Meghan reportedly claims Markle fabricated to get out of attending the wedding and avoid more embarrassment), just as long as he contacts her in a respectful way. (Not a huge ask...) This has apparently been made explicitly clear to Markle, but he continues to do interviews saying that's his only way to get his daughter to see him. According to this source, that's simply not true.
"The only reason Meghan hasn't spoken to her father yet is that she's yet to hear from him in a respectful manner," they said. "Thomas is speaking to the press more than he's reached out and spoken to his own daughter." Based on this, it's understandable why it seems to Meghan like Markle is just looking for his 15 minutes of fame and isn't actually as hellbent on reuniting with his daughter as he claims he is. Cool, dude. Real cool.
A former aide who worked on Prince William and Kate Middleton's wedding recently told Daily Mail that the royal family's plan to ignore Markle until he calmed down backfired, and now they're in crisis mode. "The perception is that he was treated very much as an afterthought," they said. "No one went to visit him when the answer would have been to have someone fly out from London and explain to him how things were going to happen." Kensington Palace declined to comment on this report.
"The Palace should have invited the whole Markle family [to Meghan and Harry's wedding]," the source added. "They wouldn't all have come and it would have made them feel included and less likely to make the negative comments they have been making."
But I'm calling BS on this one. If Markle knows he could contact his daughter just by getting in contact with his ex-wife, there's no good reason for him and his children to incessantly disparage Meghan in never-ending interviews. If his desire to reconcile with his daughter is genuine and not just a front to make money off of speaking to the press, he should swallow his pride and text his ex-wife. Simple.