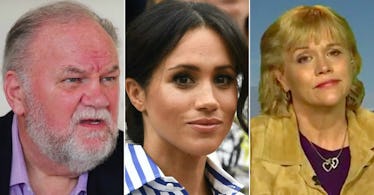 All The Shady Things Thomas & Samantha Markle Have Said About Meghan Will Enrage You
Clive Mason/Getty Images/YouTube
Celebrity relationships and friendships are a rare breed. These famous faces have their lives played out in front of the masses, whether it's the good, the bad, or the straight-up shady. In Elite Daily's new series, It's Complicated, we're highlighting the biggest celebrity "feuds" that took over Hollywood and dominated our Sunday brunches for weeks on end. We'll take a deep dive into the lives and social media feeds of our favorite stars and dissect what happened in front of the camera, what went down behind the scenes, and everything you might have missed in between.
Meghan Markle's family has been putting her through the wringer ever since she became royalty. Thomas and Samantha Markle seem to only be interested in juicing the new Duchess of Sussex's fame for all its worth by doing interview after interview. The interviews are seemingly aimed at trying to get Meghan's attention so she and her father can reconcile, but they're starting to come off to many as just general attention grabs. In an effort to keep the spotlight on them, the Markles have gotten in the practice of saying nasty things about Meghan in interviews. All of the shady things Thomas and Samantha Markle have said about Meghan make it totally understandable why the Duchess would want to completely ignore them up until this point.
Samantha Markle, in particular, seems to be capitalizing on her sister's fame by creating a scandal out of their family drama. And she's been pretty successful at it, seeing as she may be on Celebrity Big Brother. Oy. But just because Thomas Markle is reportedly looking to mend his relationship with his daughter doesn't mean he hasn't said shady things along the way in order to be salacious and get her attention.
Thomas Markle didn't say anything shady about his royal daughter until after he missed her and Prince Harry's wedding.
In fact, he had nothing but nice words about his daughter and her new husband during his first interview following the wedding. He said in an interview on Good Morning Britain on June 18 that Prince Harry, Duke of Sussex, called and asked for his blessing to marry his daughter, and he said he was a "gentleman" about it.
Thomas Markle didn't attend his daughter's wedding due to a reported heart attack and surgery, barring him from traveling, but a source close to the duchess claims that his heart attack story was all made up. According to the source, he allegedly made up the heart problems as an excuse to get out of going to the wedding after he embarrassed himself with that staged paparazzi photos mess. Elite Daily reached out to Kensington Palace regarding these claims at the time, but did not hear back by the time of publication.
Everything has pretty much gone downhill ever since his first interview with Good Morning Britain, with Thomas and Samantha Markle frequently publicly criticizing Meghan.
Since then, he's said Meghan looks "terrified" in photos with the royal family.
In an interview with The Sun in July, he said, "My thing about my daughter right now is that I think she is terrified." Uh, OK.
He continued, "I've seen her smile for years. I know her smile. I don't like the one I'm seeing now. This is a pained smile." He was referencing the above photo of Meghan with her new family on the day of Prince Louis' christening. Yeah, she sure looks miserable...
He also said he thinks the palace would destroy any birthday card he would try to send her.
Meghan's 37th birthday was on Aug. 4. Leading up to her birthday, Thomas told The Daily Mail that he thinks Kensington Palace would destroy the card if he were to send his daughter a birthday card. "I thought about sending it by Priority Mail Express," he said, "but the Palace would probably just soak it in water for three days to make sure it doesn't explode." That's probably not even close to true.
It was in this same interview that he said, "It would be easier for Meghan if I died."
Thomas Markle told The Daily Mail that he had lost all contact with his daughter because she reportedly changed all of her phone numbers. He said that he doesn't think he'll live much longer, then said, "It wouldn't be so bad. I have something of a Buddhist philosophy about death. Perhaps it would be easier for Meghan if I died." Come on, dude. He continued, "Everybody would be filled with sympathy for her. But I hope we reconcile. I'd hate to die without speaking to Meghan again."
He crossed the line when he brought Princess Diana into all of the drama he's causing.
He told The Daily Mail that Princess Diana would have "loathed" the way the royal family is reportedly giving him the cold shoulder. Seriously, dude? Acting as if you know what Prince Harry's late mother would say about this situation is just completely lacking in any tact whatsoever. He said,
They [the Royal Family] have Meghan treating her father in a way that Harry's mother, Princess Diana, would have loathed. That's not what Diana stood for. Princess Diana is credited with changing the Royal Family, but she wasn't perfect. She was still very much one of them. I think Meghan's the one who'll bring them into the 21st Century, if they'll let her.
Apparently knowing his invoking Princess Diana would anger Prince Harry, Thomas said, "I don't care if Harry never speaks to me again, I'll survive."
As for Samantha Markle, she's been extremely vocal about her disapproval of her sister ignoring their father.
In an interview with TMZ just a few days before the royal wedding in May, Samantha was asked to respond to the reported claim that Meghan wanted her to stop speaking to the press. Samantha gave a heated response. "If it's about my life or my father's, there's something in this country known as freedom of speech," she said. "She doesn't have a copyright on that and she's not gonna tell me that I can't speak about my own life or my father's where it's a matter of public self-defense." She continued,
I'm not gonna take it. She's not qualified to suggest that I don't under any law in this country. So, This is not Great Britain. I am a United States citizen. And, that's all there is to it. She's way out of her league to tell me that I can't speak.
In an interview with Good Morning Britain in July 2018, Markle was put on the spot and asked why she said she's "cashing in" on her sister's fame.
She was asked, "When you were asked on the American show Inside Edition about why you were doing something like this, you replied, 'Why not? Life is about cashing in.' There are those who just think you're in it to make a name for yourself, in it to make money for yourself ... How do you answer criticisms like that?" Samantha gave an odd answer that made it pretty clear that she's just using her sister to give herself a higher profile. "I've worked in media most of my life and in broadcasting," she said, "So, because my sister is suddenly royal isn't grounds for me to stop doing all of that." Samantha added,
Let's face it, we all have to survive. Money makes the world go round, so if you want to call that cashing in, that's fine. But I think no one in media would refuse a paycheck for talking about the royals and as a family we're not subject to royal protocol ... If you want to call it cashing in, I think that's a little bit ridiculous.
Just a few days prior, Samantha had tweeted a bunch of shady things about her sister and Prince Harry.
On July 17, Meghan and Harry attended an event honoring the late Nelson Mandela and his work. Samantha's Twitter account is private, but according to the Evening Standard she went on a Twitter rant about Meghan and their father following this event.
Samantha apparently tweeted, per the screenshots Evening Standard published, "Glad you have so much time to gallivant around paying tribute to others while ignoring your own father! How can you be so cold and look into the mirror? Harry? I guess I was right."
In another tweet, she reportedly said, "How about you pay tribute to your own father?! Enough is enough. Act like a humanitarian act like a woman! If our father dies I'm holding you responsible, Meg!" One of her pinned tweets reportedly said, "My father is not an embarrassment for loving his daughter! The royals are an embarrassment for being so cold. You should be ashamed of ourselves." Girl, enough.
Long story short, Thomas and Samantha Markle are not giving Meghan an easy time during her first months as a royal, but the royal family has apparently been a huge support system for her. I think Meghan will be just fine, but her sister and father really should just give their attacks on her a rest already.