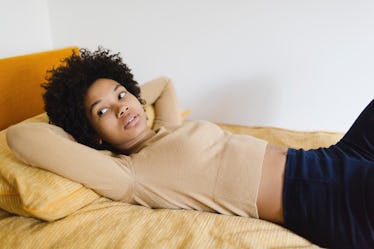 8 Little Ways To Make It Through The Post-Holiday Slump When You Feel "Blah" AF
So, the holidays have officially come and gone, which means the nonstop barrage of social obligations, family time, and emotional baggage that often accompanies this time of year are finally slowing down. And yet, you find yourself feeling more than a little blah for some reason. Now, while I personally find the holiday season difficult, I find that the letdown from all that heightened excitement is just as, if not more, emotionally taxing, as it often throws me into a post-holiday slump that I just plain didn't see coming.
If you're feeling this way too, take some solace in the fact that you and I are most certainly not alone in this. Holiday and post-holiday blues are a real thing. In fact, even post-vacation blues are a thing. These are all similarly described as a kind of "back to reality" sensation, where you realize that everything you put to the side during the buzz or strain of the holidays or time off is kind of, you know, still there. So whether you enjoy the holidays or not, these blasé feelings do certainly take up a whole lot of space for a while there.
If you're having some trouble getting back into the daily grind, fret not. Consider incorporating a few of these little things into your daily routine for the next couple weeks to ease the transition back into your everyday life. Trust me, we'll all get through this.