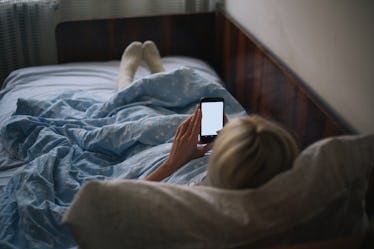 7 Ways To Feel Happier In The Winter When You Have Seasonal Affective Disorder
I know a lot of people who cling to the idea of summer like a security blanket, who shudder at the mere thought of the sun setting before 6 p.m. But there's a big difference between muddling through winter blues and figuring out how to manage seasonal affective disorder. SAD is a very real, very serious mood disorder that annually overlaps with the seemingly happiest time of year, and it's that much harder to deal with when everyone else in the world seems to feel so merry and bright through the holiday season.
While those who suffer from SAD should seek professional help and take the proper medication when necessary to counteract feelings of depression, there are also small ways to cultivate strategies that help you feel your best despite the struggle. The more you know about the disorder, the better equipped you'll be to combat symptoms and offer helpful tips to loved ones who may be suffering from seasonal depression.
One of the most important things to remember when dealing with SAD is that, again, it's a medical condition that affects someone both mentally and physically. In addition to talking to a therapist and/or taking doctor-prescribed medications, consider some of these little ways to help you cope with seasonal affective disorder, because you deserve to feel your best all year round.