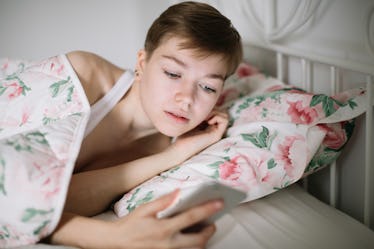 6 Changes You'll Notice If You Keep Your Phone Away From Your Bed At Night
People have a lot of hang-ups when it comes to their sleep space. Among the many reservations are ongoing debates questioning whether or not wearing socks to bed is a hygiene issue, and if sharing the covers with your cat is such a genius idea. But the real question millennials are afraid to know the answer to is this: Is sleeping with your phone near you bad for your health? Sorry my friends, but snoozing with your cell is likely messing with both your physical and mental health in at least a few different ways.
As much as we don't want to admit it, smartphones have become the millennial's primary lifeline. Personally, I'm surprised computers haven't become obsolete yet considering how we, as a generation, communicate, are entertained by, get our news from, and find love via cellular devices. Our phones are rarely out of reach, and even though it may appear that you sleep more soundly with Siri by your side, the truth is, sleeping with technology is a health hazard, and we need to break up with this behavior ASAP.
Back in June 2015, Bank of America released its annual Trends in Consumer Mobility Report, in which 1,000 checking or savings account holders ages 18 and above were asked about using their smartphones in bed. Of the responders, a whopping 71 percent claimed they sleep with or next to their phone. Well, considering it's now 2017 and smartphones have become even more of a liability than they were in 2015, I wouldn't be surprised if that percentage has already skyrocketed.
There are so many reasons why you shouldn't sleep with your phone, but if you need a reason to ditch yours, here are some of the benefits you'll reap if you start keeping your device separate from your bedtime routine.