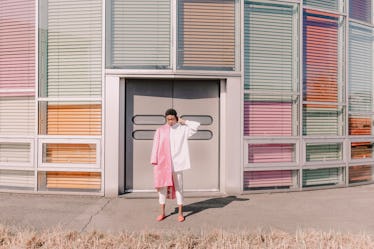 The Most Popular Travel Destination For Millennials Tops Paris & It's Not What You'd Expect
Diane Villadsen, Stocksy
Where to next? That question seemingly never gets old, and I don't blame you one bit for asking it. You just got back from a trip, or haven't hopped on a plane in a while, and are in desperate need of some new surroundings. Girl, I wish I could hand you a plane ticket through the screen. For now, you're just going to have to ask some more questions like, what's the most popular travel destination for millennials? Well, let me give you a heads up: It might not be what you'd expect.
Think about your bucket list. What places and cities around the world are you just begging the universe to explore? For me, taking a road trip along the coast of California to see the Golden Gate Bridge in San Francisco and waves of the Pacific Ocean, is a pretty top priority. I've also been daydreaming about the magical waterfalls and blue lagoons in Iceland, and can imagine myself soaking in the sunshine and palm trees of Bali. (Somebody please pinch me so that I can get back to work!)
That doesn't mean I'm not staying open-minded to what else is out there. This world is wide, and like young Donna says in Mamma Mia! Here We Go Again, "I want to make some memories." Thanks to a recent survey conducted by Fat Tire Tours, there is one place that's suddenly sounding better than Paris, London, and just about everything else on my bucket list. It's unexpected, but that's how the best adventures begin, right?
What's the most popular travel destination for millennials?
OK, you've been sitting on the edge of your seat, waiting for the answer to this question. Can someone start a drumroll, please? The most popular travel destination for millennials is Munich, Germany. *Cue the gasps.* I know, it's probably not what you'd expect or guess on the first try. But, hear me out on this one.
According to the survey from Fat Tire Tours — a travel company that offers bike, walking, and segway tours across Europe and the U.S. — this generation of wanderlusters is interested in everything this city has to offer, from the rich culture to the extraordinary food. Travelers want to head there for their next vacation, score that passport stamp, and then post a bunch of pictures on social media. (That last part sounds about right, huh?)
The company surveyed more than 1,500 people, asking them about their social media preferences and travel habits. In addition to Munich, they narrowed down the results to focus on cities like Paris, Barcelona, London, and Berlin. You know, the places you'd typically go if you were spending an entire semester abroad in Europe.
Out of everywhere in the world, though, Munich stood out with 91 percent of respondents being interested in the city and all of its Insta-worthy spots. Are the numbers not convincing you to book a trip quite yet? Let's talk cameras and photo ops then.
What are the most photographed sights and foods in this city?
The survey revealed that what attracts so many millennials to Munich is certain buildings, landscapes, and plates of food. Half the travelers took a photo at the Munich Botanical Gardens, surrounded by all the flowers and their best buds. In addition, 52 percent of this group snapped pictures at the Deutsches Museum, and 49 percent at Marienplatz, which is the central square of the city. With just a simple search on the Internet, you can see that the architecture creates such a unique backdrop.
Not into sight-seeing and experiencing the beaten path? Then listen up to the 47 percent of travelers who said a majority of the pictures they took were of food. Let's be honest: One of the best parts of traveling anywhere is tasting dishes that you wouldn't back home. According to the survey, when you're in Munich, you should really try schmalznudel (a flat fried doughnut), schweinshaxe and knödel (roasted pork knuckle), and buzhenina (roasted pork shoulder). Of course, take a picture of it before that first bite to prove that you've been there, and eaten that.
What other cities are millennials traveling to, and what are they photographing there?
The less shocking evidence from this survey is all about the other cities millennials are traveling to, and what they're taking pictures of there. These results focus on Paris and Barcelona, and another popular German city, Berlin. Those places are probably already on your bucket list, but clearly for a good reason.
Fat Tire Tours reported that "The City of Love" is very popular amongst travelers from the U.S., and that 83 percent of people who go there take a photo with the Eiffel Tower. The Louvre Museum and the Arc de Triomphe are also must-sees, and you definitely want to make time for eating crêpes along the Seine River.
The survey also proved everything you've heard about spending a weekend in Barcelona and experiencing its beautiful beaches. Out of all of those true travelers, 44 percent said they photographed the white sand and waves at Barceloneta Beach, and 43 percent let their lens focus on the paella before they got a scoop. Need I say more? You're already grabbing your passport and doing some outfit planning.
How can you experience this top travel destination, too?
When it comes to Munich, you have to book a trip. A place that millennials are so interested in and photographing on the reg means that a true traveler like you needs to get with the program.
You might start getting your plans together by booking a flight, and then finding the right accommodations. The best travel apps out there can be great for helping you track down the lowest prices and most unique places to stay. From there, you have to get your excursions in the books.
Walking and bike tours, like the ones provided by Fat Tire Tours, can be great for seeing a lot of sights and getting the history behind them. When you're looking at a building, you may not remember all those facts you learned about it back in school. But, a local guide gives you the 4-1-1 and tells you stories that most textbooks leave out.
When all is said and done, you'll come home feeling cultured and in awe of the world. You saw something on the map that most people would ignore. That deserves all the photos on social media, and that passport stamp, too.