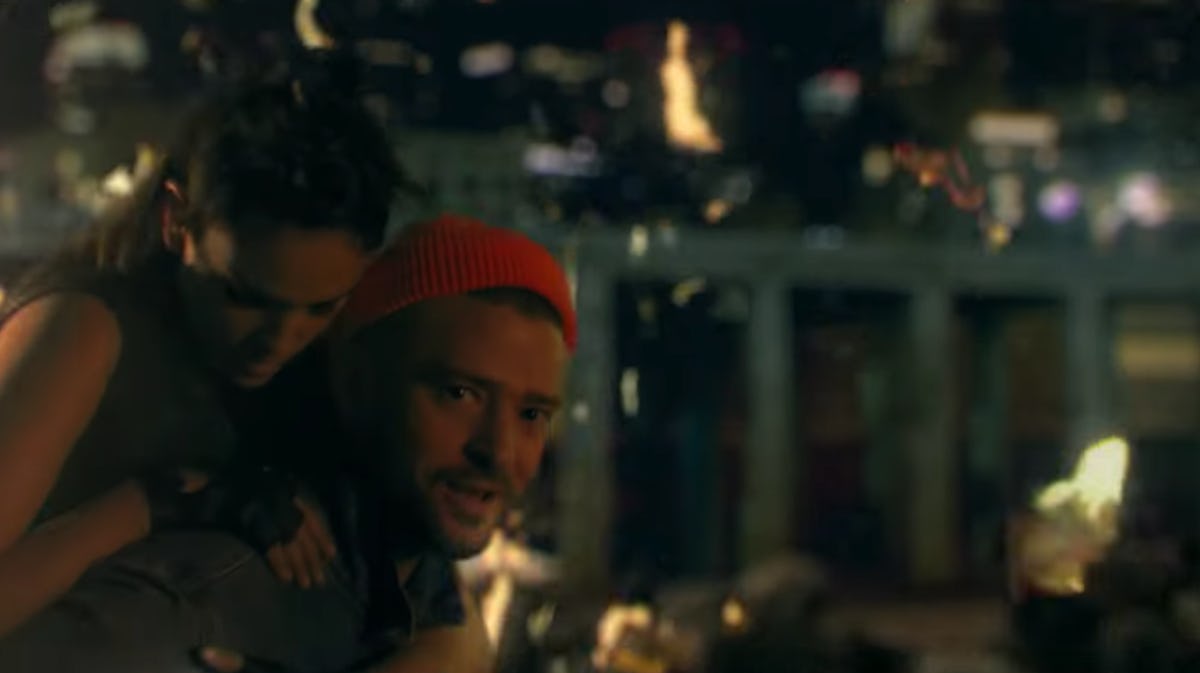 Justin Timberlake's "Supplies" Music Video Is Here & It's Super Intense
YouTube
Wow, wow, wow. Good morning, everyone. Welcome to a new day with a new JT music video. On Thursday, Jan. 18, the pop icon released a wild visual journey to the public, and the meaning of Justin Timberlake's "Supplies" music video is really intense. TBH, I know I don't fully understand it, but d*mn, it sure made me feel things.
"Supplies" is the latest single to drop off of Timberlake's most recent album, Man Of The Woods, and I really love it. Like, really, really love it. The music video Timberlake created to accompany the already epic beat puts this song over the top. The video is packed with heavy political symbolism and follows the journey of one fierce heroine kicking *ss in a dystopian world.
Sure, JT is technically there and everything, but the plotline definitely gives off a very specific "p*ssy grabs back" vibe. In fact, one woman is wearing a T-shirt that says just that. (She also happens to be picking up a car, but, whatever.) The phrase is just one of many that pop up throughout the video.
Other politically charged messages like "Me, too," "The future is female," "End racism now," "We are people, not terrorists," and "I can't breathe" also streak across the screen while a visibly distraught Timberlake looks on.
Know what? You just take a look. I'll wait.
A lot, no?
At the very end of the music video in a seemingly post-apocalyptic landscape, a young child looks straight into the camera and says,
Just leave. Die already. You're still asleep. Wake up! Just leave, please. We're good.
And then I got goosebumps for 10 minutes and had to stare at a wall to process everything I just saw.
Here are few of the song's lyrics:
Ain't no need of stopping, girl. Yeah. There ain't no need of stopping, girl. Yeah, OK.
Met you out on Broadway on the hottest night in town. We arrived solo. But we were being chasing around. Saw you being caught up by some guy you used to know. Stepped in between the both of y'all. Said 'I'm leaving, do you wanna go?'
Cause I'll be the light when you can't see. I'll be the wood when you need heat. I'll be the generator, turn me on when you need electricity. Some shit's 'bout to go down. I'll be the one with the level head. The world can end now. Baby, we'll be living in The Walking Dead.
'Cause I got supplie-ie-ies. Supplie-ie-ies. I got you, supplie-ie-ies. Supplie-ie-ies (I got supplie-ie-ies).
I don't know if you remember this. But I was out of town. Flew in on a 3 a.m. just to show up and hear your sounds. The multiple times, stop. Hit the set. You ain't headed that way. I can guarantee you that.
Now I wanna know everything. Don't leave a single detail out. I'll get my lighter, just fell out. It makes me a generous lover. Oh, I wanna see everything. So don't leave a single detail out. I want it all on the table. The personal way to — Wait.
Regardless of how you feel about the song, you've gotta give it to the man. The music video is epic. (Sure, there's technically not even one mention about the woods, which is confusing given the title of the album, but it's fine. We're sure there's a nature song is coming.)
Thanks for keeping the day interesting, Justin. We're standing by for your next move.
Check out the entire Gen Why series and other videos on Facebook and the Bustle app across Apple TV, Roku, and Amazon Fire TV.