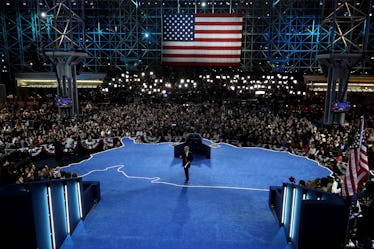 In The Year Since Trump Won The Election, Women Found Their Voices
Elsa/Getty Images News/Getty Images
A year ago, past 2 a.m. on Nov. 9, 2016, a male colleague and I made our way out of the Javits Center in New York City. Working our way home from what was supposed to be the venue for Hillary Clinton's presidential victory party, we passed a man holding a sign for "free hugs." John Podesta, Clinton's campaign chairman, had come onstage minutes earlier, telling the crowd to go home. I knew that night, after it was clear that Donald Trump was to become the next president of the United States, that men could never really understand what a slap in the face this election was for women. As Clinton put it in her book, What Happened, published September 2017, women had to "come to terms with the fact that the country had just elected someone who objectified women and bragged about sexual assault."
My colleague made an optimistic comment about the "free hugs" man, and it struck me that he — and all men, really — couldn't get what this night meant for women, because he had no idea of the threats women face every day, the whispered warnings we're always giving each other. So I told my colleague, point blank: "The 'free hugs' guy in Union Square harasses women."
From that moment on, I haven't shut up about the constant threats, barriers, and disrespect women face, and I haven't stopped doing my best to explain the daily struggles women experience to men, who apparently are still surprised women struggle at all. For me, November 2016 served as a turning point. And I am far from alone in feeling that way.
We are feeling like if we don't speak up now, we are going to run out of time to speak up at all.
Last October, the Access Hollywood tape of Trump bragging about what amounts to sexual assault was published by The Washington Post. After the tape came out, more than a dozen women accused Trump of sexual misconduct. (The White House's official stance is that these women are all liars.) In response, people around the country started having conversations about sexual misconduct, and by the time former FBI Director James Comey released a letter three weeks later that most — including Clinton herself — would argue changed the outcome of the election, those conversations were overrun by new narratives. A month after the tape came out, a man accused of serial sexual misconduct was elected president.
But the response in the year that followed Election Night 2016 has been deafening.
On Oct. 5, 2017, The New York Times published a report alleging decades of sexual harassment by Hollywood mega-producer Harvey Weinstein. (Weinstein has denied further accusations of sexual assault and rape.) A month later, the conversation continues, with more allegations against other powerful men continuing to come to light. The #MeToo campaign sparked a massive nationwide discussion about the effects of toxic masculinity and sexism in women's daily lives. Weinstein was ousted from his own company.
To put it frankly, in October 2017 — just a year shy of the election of Donald Trump — women refused to shut up. Whether we realized it or not, after that fateful day just a year ago, we'd been preparing to erupt.
What follows are the accounts of nine women, each sharing how they got to this point; how movements — both public and private — in their personal and professional lives have made their voices unavoidable.
In summer 2016, Gretchen Carlson publicly spoke up about her own sexual harassment in the workplace, kicking off a national discussion that would take us through to November 2017.
In July 2016, Carlson, a former Fox News anchor, sued Fox News CEO Roger Ailes for sexual harassment and wrongful termination. After she went public, several other women came forward with similar allegations. Within three weeks of Carlson announcing her lawsuit, Ailes resigned.
"I feel like what I did was instrumental in the Weinstein allegations actually even happening. It usually takes one person to dive over the cliff into the abyss, and when I did it, I was completely alone," Carlson, who wrote the book Be Fierce as a guide for women facing sexual harassment, tells me in an interview for Elite Daily. "My story garnered huge, national attention, and that sparked, I think, the idea that, 'holy you-know-what, this is still going on in American society in the 21st century.'"
While Carlson wasn't the first person to publicly speak out about sexual harassment, the Ailes allegations brought the conversation to the political realm — particularly for Republicans — with the national attention it garnered. It was with this background that the Access Hollywood tape came out, followed by the Trump allegations. But at that point, as I see it, women didn't realize how much we needed to shout that sexism and sexual harassment are real and bad things.
The election served as a wake-up call to many women who were unaware of how deeply sexism and racism flowed in this country.
"For the last eight years, with President Obama, [racism and sexism were] kind of just shadowed or hidden from me," Tracy*, 32, tells me. "You feel like we're in such a 'better' place — we've had our first African-American president; we've made big strides. And then this election was like a car wreck."
I think that's something that has become very apparent is how much men don't know.
This sentiment was especially felt by progressive white women, who had to contend with the fact that 53 percent of white women voted for Trump, the national election results showed. It was this sort of guilty ownership that helped motivate Tracy to participate in activism for the first time. "I have racist, bigoted people in my family who I feel like I have to try to balance out," she says.
So, along with attending a march for black women, Tracy took to the streets as part of the Women's March in Arizona.
Immediately after Election Day 2016, the first Women's March Facebook event was created by Teresa Shook, a retired lawyer in Hawaii, and founded in an angry response to the election of Trump and the disrespect it represented.
An estimated 470,000 people descended on Washington D.C. for the Women's March on Jan. 22, 2017. They were joined by millions of protesters around the world, letting Trump know his presidency would not go uncontested. But marches often come and go without effect. So it's interesting to see that while the Women's March faces ongoing criticism, it's still going, with an official convention hosted in late October 2017. The motivation, Cassady Fendlay, director of communications, tells me, comes from the continuing attacks the Trump administration thrusts on various communities.
"We were not planning to continue to do things after the [Women's] March," Fendlay says. "But it definitely became clear that with this level of attacks, we needed continuing coordination to be able to defend women at all. The engagement that we've seen around the sexual harassment cases is really also very much tied into all of this."
Where was that when Trump was talking about 'grabbing p*ssy'?
The issues the Women's March are combatting — including sexual harassment — are not new, Cassady says, "but we are feeling like if we don't speak up now, we are going to run out of time to speak up at all."
The loud shout of the Women's March reverberated on a more individual scale in millennial women's professional lives.
The anger felt by so many women began turning into action. Tracy started noticing instances of sexism in her workplace after the Access Hollywood tape came out. She began speaking with other women in her office and encouraging them to support each other. Tracy also helped a new female employee get a raise after noticing she was making less than her male counterpart. "If I can make a difference just to a small group at my office, hopefully that's making an impact and making the world a better place," Tracy says.
American Jordana Moser, 25, works on a team of all men in London. Since the election (after which her white male colleague told her there was nothing to worry about), she's become the outspoken woman in the office, pointing out problematic instances — to the point that her boss defers to her to check that his behavior doesn't fall into a sexist category. She's also started having conversations with men about the everyday experiences of sexism, such as catcalling, and she's been surprised to find "they genuinely just didn't know, and I think that's something that has become very apparent: how much men don't know."
Young women also began speaking up in their personal lives with the election.
Victoria Pallien, 22, graduated in May from an arts school in Savannah, Georgia. While her classmates leaned liberal, she was catcalled on a daily basis around the city. After the election, this bothered her more and more, and she started responding to the catcalls.
"I would just get to the point where I would try to make them as uncomfortable as they had made me," she tells me. "That definitely was a moment of empowerment, because I was taking the situation back; I was [putting] myself in control again."
Pallien also began posting nonstop about women's issues on Facebook, something she had not previously done. And when the #MeToo campaign started bubbling in October 2017, she posted an article explaining what the hashtag meant, not realizing it would soon become a massive outcry overtaking newsfeeds for weeks.
"It was really about creating a space for young women of color ... and letting them know that you're not an anomaly, you're not strange in any way; this is a thing that happens to many people, and we understand. Your feelings are heard," Burke tells me.
Sexual violence is really about power and privilege, and it's not just about male privilege.
But the call for #MeToo postings in October 2017 came from actress Alyssa Milano, and Burke's work was threatened to be erased in the rush. Many of the Weinstein allegations that got so much attention came from famous white women, following the unfortunate trend that society only pays attention when a pretty white woman is threatened. As Jane Fonda said, "it's probably because so many of the women that were assaulted by Harvey Weinstein are famous and white and everybody knows them. This has been going on a long time to black women and other women of color and it doesn't get out quite the same [attention]." Members of the media worked to raise Burke's voice, and she believes that because of that, the root of the campaign got through.
"It's not an automatic thing that our voices [as women of color] are included," Burke says. "There's a lot of conversation about shifting culture around sexual violence, but the culture has to shift around how we engage with our privilege, really. Sexual violence is really about power and privilege, and it's not just about male privilege."
This time around, women were not going to be talked over.
By the time the Weinstein allegations first surfaced — after a year of facing the harsh truths about American society and men, seeing the Trump administration attack rights for women of all cultures, and being reminded day after day that an unqualified man who bragged about "grabbing women by the p*ssy" and rated women on a scale of 10 was somehow allowed to lead this country — women's frustrations reached a breaking point. We were bursting to scream about the effects of sexism, from the everyday scratches we bear, to the lost professional opportunities, to sexual violence. We had found our voices, and we knew we couldn't go unheard again.
#MeToo dominated newsfeeds for weeks. It sparked conversations between young women and the men in their lives who had never been prompted before. Women who previously hesitated to tell their stories were posting statuses declaring one simple phrase: "Me, too."
The incredible eruption of #MeToo motivated Veronica Mosqueda, 26, to actually confront her sexual assailant. It was something she'd wanted to do for 10 years, but she couldn't figure out how to "articulate it," she tells me. Then, #MeToo sprung up. "I felt just really inspired by the people speaking out, the way we were all standing in solidarity with one another," Mosqueda says. So she wrote her own #MeToo Facebook post, which was more about the social components of assault than her specific experience, and realized that what she wrote was exactly what she wanted to say to the man. So, she reached out to him.
He responded, but Mosqueda says he soon after shut down the conversation. Mosqueda wasn't disheartened, though. She did this, she says, because she "owed it to my 15-year-old self," and she also wanted to create a continuing dialogue. She and her friend, Caroline Taylor, are now working on a project around the conversation she had with the man to help other survivors. "It's not about someone else validating what happened to you; it's about you reclaiming some sort of agency and empowering yourself to heal in the way you can," Mosqueda says.
At this point, however, it's worth wondering if this is all too little, too late, since Trump is already in office.
"It's kind of interesting to me to see so much hate and vitriol come out for [Weinstein], and appropriately so, but like, where was that when Trump was talking about 'grabbing p*ssy'?" asks Taylor.
"I think it's sad that all [Trump's] accusers' stories pretty much evaporated. So on the one hand, you can say he didn't keep the conversation going," Gretchen Carlson says. "But, I also feel like there is this disconnect where we're watching titans from both sides fall, and yet there are still a lot of questions about his alleged behavior."
As Burke sees it, Trump's election created a sense of hopelessness that we can never solve sexual violence and a strong example of the problems of privilege. "Donald Trump is a vat of patriarchy and misogyny and violence. Having him in office absolutely elevates this conversation to a whole other level," she says.
But these conversations have the potential to change men's behavior — and the backlash against Trump has the potential to change American politics.
On Election Night 2016, 18-year-old Annie Romero was "so terrified for this country," especially as a young Hispanic woman. "I think [the election] just brought out the inner sexist and racist person in a lot of people. I didn't realize how terrible people could be until now," she tells me.
Before the election, she hadn't paid much attention to politics and had assumed things could only get better for women — and that sexual assault would be taken more seriously than the outcry against a private email server. Now, as a senior in high school, she's been having conversations with Trump supporters around her, trying to bridge some sense of understanding.
Romero tells me she's registering to vote as soon as she gets her license. "When it comes to next election, all I can hope for is the best," she says, "and hopefully we'll learn from our mistakes."