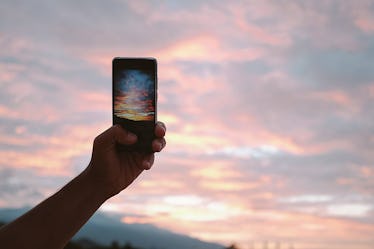 The Lightroom Preset You Should Use On Your Next Instagram, According To Your Zodiac Sign
With summer swirling sunshine all around us, there's no better time to up the ante of your social media game. I mean, if you're living your best life, there are either photos to prove it or it didn't happen. What better a way to show the world how great your life is than to post some gorgeously edited photos? Take note of the Lightroom 2018 preset you should use, according to your zodiac sign, because it'll make all your dreams of an envy-inspiring Instagram feed come true.
If you're on the more social media challenged side (like me), then figuring out which preset works best for your overall aesthetic can be a real headache. There are so many options to choose from, and mixing them up too often can make your feed appear mismatched. If you're looking for a guide, then your zodiac sign is always a good place to start. Containing your inherent qualities and preferences within its meaning, your zodiac sign can say so much about the overall vibe you give off. The same goes for your rising sign, since it reveals the way you express yourself to the public eye and cultivate your image. And, since the subconscious always flows through one's art, your moon sign has a lot to say about your taste in presets as well.
Aries
An Aries always wants more — more intensity, color, saturation, and contrast. However, too much of anything is never a good thing. With presets from Twitter user @michaelste_, an Aries can have more of everything without crossing the line.
Taurus
Nature-loving Taurus will realize all their dreams of being a deity frolicking through a meadow with presets from @FashionMumbler. Bringing out Earth's purest colors so that the photo reveals details that weren't seen before, this preset suits them perfectly.
Gemini
A Gemini wants to reveal the shadows without compromising the light. Their dual-sided nature will feel completely seen by presets from @stephenhalphen. Enriching color, sharpening darkness, and accentuating light, these presets don't force Gemini to choose.
Cancer
A Cancer wants a taste of nostalgia, magic, and fantasy infusing their photos. With presets from @juliatrotti, their photos will seem as though they were taken in another world. When a Cancer puts their heart in everything, their photos need to match their soul.
Leo
A Leo wants their world to appear happy, healthy, and flowing with positive vibes. With presets from @AspyNovard, their photos will seem like they were sliced from sunshine and no one will be able to deny just how fantastic the life of a Leo seems.
Virgo
Cleanliness, brightness, and purity are at the forefront of a Virgo's aesthetic concerns. With presets from @jessicaleigh206, their photos will feel brushed clean by a soft glow of natural light, making a Virgo's world seem even more organized.
Libra
A Libra's Instagram feed is concerned with aesthetic more than anything. It doesn't matter how sentimental the photo is. It's either beautiful or it's not getting posted. With presets from @nightsnlights, the aesthetic perfection of their photos will be absolutely undeniable.
Scorpio
When a Scorpio cultivates an Instagram feed, they want to portray vividness, excitement, passion, and lust. With presets from @DomVisuals, a Scorpio can add a layer of romance and intensity that makes every single photo appear like it's hopelessly in love.
Sagittarius
A Sagittarius wants to allow their adventures to tell the story, not the presets. This is why a soft and glowing preset from @camiejuan is just the way to go. Adding a graceful tone to an already fascinating photo, a Sagittarius won't feel the subject is bogged down by changes.
Capricorn
A Capricorn has a proclivity for cool tones to match their driven and focused energy. With presets from @jayperry, a Capricorn will be able to add tons of stimulating energy to their photos, further reminding them that the world is rife with opportunity.
Aquarius
The Instagram feed of an Aquarius needs to be, above all, unique. Their photos need to stand out and go against the grain. With presets from @gelostics, their photos will have such an individualistic edge that everyone will be asking them how in the world they got such an effect.
Pisces
Dreamy, romantic, and nostalgic Pisces will feel transported to a better place with presets from @camiejuan. Adding a heavenly sheen of pastel tones to a photo they've probably spent a ton of artistic juices taking, a Pisces will feel satisfied.