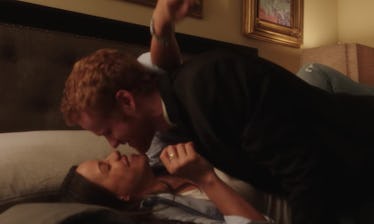 A New Trailer For The 'Harry & Meghan' Lifetime Movie Has Arrived & I'm So Hyped
YouTube
There is absolutely nothing I love more than cozying up on the couch, flicking through television channels, and ultimately binge watching cheesy Lifetime movies. The A&E Network channel is known for its flair for the dramatic, and the latest trailer for the Harry & Meghan Lifetime movie definitely proves that. Just watch this clip and try not to swoon too hard.
On April 5, the latest sneak peak of the Lifetime original movie was released, courtesy of CNN's Sandra Gonzalez. The clip may just be a short and sweet 45 seconds, but it still gives us a glimpse into what we can expect from the upcoming film: family drama, true love, and of course a steamy scene every so often. C'mon, this is Lifetime, what did we expect?
The first official trailer for Harry & Meghan: A Royal Romance was released on March 16. Like every classic Lifetime flick it's a little sappy, and cheesy, and OK it's a little bit over the top too, but that doesn't mean it won't be absolutely fantastic. Judging from the first trailer, and now this new clip, it looks like the movie will cover Prince Harry's fight against marriage in order to hold onto his ~infamous~ party boy ways. However, everything changes once he meets Meghan Markle. In the clip, Markle and Prince Harry juggle a whirlwind romance in the public eye while fighting against strict royal traditions.
Peep this clip and let's pretend for 45-ish seconds that we're on this romantic journey with them.
Harry & Meghan: A Royal Romance is set to air on Lifetime on May 13 at 8 p.m. ET, just a week before Markle and Prince Harry will say "I do" on May 19 in St. George's Chapel on the grounds of Windsor Castle. Even though some may find this air date ironic, it's definitely not a coincidence. Similar to this film, theWilliam and Kate Lifetime original film aired on April 18, 2011, just a few days before the Duke and Duchess of Cambridge exchanged vows on April 29, 2011.
So sneaky, Lifetime.
It's no secret that Prince Harry and Meghan Markle's upcoming wedding is one of the most anticipated events of the year. Rumors that the two were dating surfaced in October 2016, but it was officially confirmed in November 2016. Finally, like a true fairytale, the couple announced their engagement on Nov. 26, 2017.
An official statement from Prince Charles announcing the engagement was released on Nov. 27, 2017.
The statement read,
His Royal Highness The Prince of Wales is delighted to announce the engagement of Prince Harry to Ms. Meghan Markle. The wedding will take place in Spring 2018. Further details about the wedding day will be announced in due course. His Royal Highness and Ms. Markle became engaged in London earlier this month. Prince Harry has informed Her Majesty The Queen and other close members of his family. Prince Harry has also sought and received the blessing of Ms. Markle's parents. The couple will live in Nottingham Cottage at Kensington Palace.
There's no denying that Meghan Markle isn't your traditional royal bride. Prior to Prince Harry, Markle was married to film producer Trevor Engelson from 2011 to 2013. Marrying someone who's been divorced is pretty rare in the royal family, but clearly they had to make an exception for Markle. I certainly can't blame them.
Leading up to the wedding, we've been getting the skinny on the special day. Details about the invitations, Markle's wedding dress, and their ceremony flowers have slowly been leaked to the public, but I for one won't be satisfied until the actual day comes where I see those two lovebirds say "I do."
Here's to life, love, and Lifetime movies. If you need me, I'll be watching this trailer on loop until May 19.