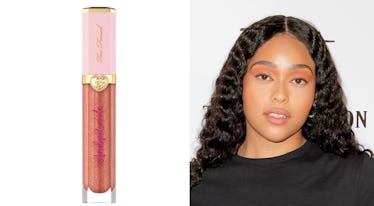 Jordyn Woods & Too Faced Collaborated On A Lip Product Fit For Beauty-Savvy Social Butterflies
Too Faced; Tibrina Hobson/Getty Images Entertainment/Getty Images
If you haven't heard about Too Faced's new Pretty Rich Collection, just know that it's got you covered in terms of luxe, sparkly glamor. There's a glitter face mask, diamond-esque highlighters, and best of all, a chic celeb collab. That's right, people, this new collection brings with it the launch of the Jordyn Woods x Too Faced collab, a pearlescent, peachy gloss that's got the model's seal of approval and is practically designed to amp up your Instagram selfie game.
You'd think a diamond-encrusted version of the brand's iconic Better Than Sex Mascara would be the ultimate eye-catcher in a new collection, but Woods has garnered tons of attention after collaborating with Too Faced on their new Rich & Dazzling High-Shine Sparkle Lip Glosses ($21 each, coming soon to Too Faced) and designing her own shimmering shade, "Social Butterfly." The collection doesn't go live on the brand's site until December 9, but they've already taken to Instagram to preview the products, as well as their excitement towards the collab.
"We've teamed up with our BFF @JordynWoods to create an exclusive Social Butterfly shade of our Rich & Dazzling Lip Gloss!," reads an Instagram caption accompanying a video of Woods swiping on the new lippie. "Wrap your lips in a gloss so indulgent, you'll feel like you're dripping in diamonds."
When I first saw the video, I thought, "Wow, that shade was practically made for her!" Then I read the caption and realized it actually was:
"Social Butterfly" appears to be a pigmented coral-y nude gloss with a reflective finish and golden shimmer. The formula of the gloss itself is described on the brand's site as "cushiony and comfortable," thanks to natural oils that hydrate while you wear.
Woods' shade has her signature written across the tube in hot pink cursive, but in addition to "Social Butterfly," there are five other glitzy shades:
This isn't the first time Woods has dabbled in the makeup industry — the model and founder of street style-inspired activewear brand SECNDNTURE previously collaborated with her BFF, Kylie Jenner, on the Kylie Cosmetics Kylie X Jordyn Collection. The drop featured two glosses, one a sheer gold glitter and the other a peachy nude, and it's almost as if Woods combined them into the ultimate supergloss with the help of Too Faced.
I mean, it's no wonder so many beauty brands want to team up with Woods. Have you seen her makeup game? Here she is rocking the gloss on the 'Gram:
It wasn't until Woods made a post thanking the brand and its founder, Jerrod Blandino, that I was reminded just how young she is. Imagine having a lip gloss inspired by you at age 21? I could barely afford to buy a nice lip gloss at age 21, TBH.
"When I was a young girl I would have never believed I would have accomplished the things that I have already by 21," reads the start of her heartfelt caption. Go, girl!
Too Faced is known for their arsenal of glam, girly products, so Jordyn and her Rich & Dazzling Lip Gloss were bound to fit right in. I'll have to wait until December 9 to get in on the glitz, as the Pretty Rich Collection won't be available for purchase until then, but considering there's never been a time when I didn't want to look rich and dazzling, I have a feeling I'm going to love it.