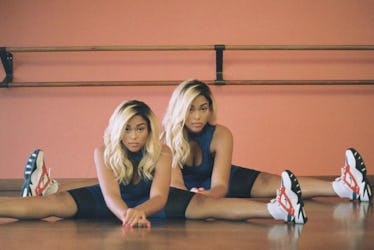 Jordyn Woods Just Launched The Affordable & Size-Inclusive Activewear Line Of Your Dreams
Over the past handful of years it seems like a slew of new activewear brands have cropped up with affordability and quality at their center. Jordyn Woods' activewear line, which is dropping today, is one such label, except it boasts the added ace element of size inclusivity. Move over, Outdoor Voices and Girlfriend Collective, there's a new buzzy line of covetable leggings and matching bralettes that's about to take over.
Called SECNDNTRE, the 24-piece collection is comprised of everything from '80s-esque windbreakers and bright bodysuits to the aforementioned leggings and bras. Everything is available in sizes XS to 2X and every single piece retails for less than $80. Talk about accessibility!
According to PEOPLE, Woods has been working on the brand for the past year, perfecting it and fine-tuning it the entire time. Her inspiration to found SECNDNTRE mainly stemmed from her love for working out. "I went through a lot of different things and working out became my therapy, especially after losing my dad," she revealed to PEOPLE. "And through working out all the time I realized that there was kind of not an activewear line that was super quality and affordable and size-inclusive so I decided, 'Why not make my own.'"
Size inclusivity was key for Woods, who struggled with finding clothes that fit when she was younger and therefore didn't begin to experiment with her personal style until many years later. "When you're younger and you're bigger—when I was growing up, there weren't many clothing options," Woods revealed in an interview with Elite Daily. "So it was easier to gravitate towards a big t-shirt and like, baggy pants." Since then, Woods's confidence has skyrocketed and she's figured out what works for her body. Take one look at SECNDNTRE's offerings and you'll see that she understands what will be both wearable and effective for her universal client base, too.
"I already had the name SECNDNTRE saved in my notes for something in the future. It was a name I thought of and it all kind of made sense to use it because I feel like 'second nature' means something that comes natural to you," Woods told PEOPLE. "And activewear should come natural to you. You shouldn't have to put much thought into it."
It's clear something Woods has put a lot of thought into is ensuring her line is both fashionable and progressively functional. A star piece from the collection are leggings with a built-in waist trainer. "It's my most innovative piece," she explained to PEOPLE. "When I workout I wear the sweatband. It helps keep your core tight and maximize the workout. I decided why not kill two birds with one stone because sometimes I forget my band or it doesn't work with the leggings I am wearing. I haven't seen leggings with the sweatband built-in done before."
While Woods' new line is clearly poised for a radically successful launch on it's own, the support it's gotten from one of the designer's mega famous friends certainly can't hurt. Kylie Jenner posted a photo of Woods wearing some of her new designs to her Instagram stories and captioned it, "I'm proud of my bestie for making her dreams into reality! I've seen first hand how long you've been working on this! tomorrow's the day!"
Today's the day, and it's a sublimely sartorially cool one.