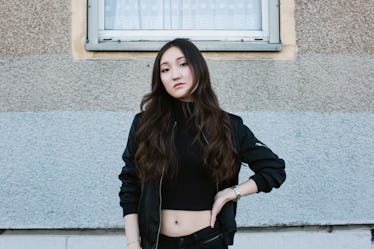 The Girl Who Wears Black Wants You To Know These 7 Things
This girl is always painting it black. Her looks are picture-perfect, but you rarely see her in any color that's even a touch brighter. In your friend crew, she's the one who's a little edgy and can rock a leather jacket like no other. Even in the summertime, she's finding a way to sport her favorite fashion and beat the heat, too. You don't quite know how she pulls it off, and you might even assume she just loves to wear black all the time because she's in some sort of mood. But the girl who wears black is seriously misunderstood — even by her closest besties. And she wants you to know what's really up with her wardrobe.
Whoever said orange is the new black was seriously wrong. To this girl, there's no other color that's worth having in her closet. She could go shopping and tell herself she's going to branch out, and yet she'll still come home with the same color scheme that's established her signature style for years. Hey, I don't blame her; it's hard to stray away from something you love so much, especially when it comes to your fashion sense.
Deep down, this girl knows that, one day, her looks could change. But for now, she's oh-so comfortable in her charcoal cut-off jeans and jet black boots. Everywhere she goes, she brings a bit of edge and an air of cool confidence that you rarely ever see. But, she also knows that not everybody understands these seven things about her.