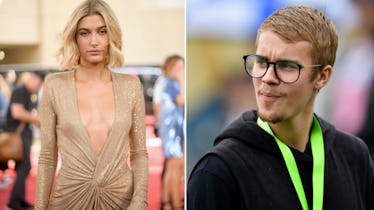 The First Photo Of Hailey Baldwin's Reported Engagement Ring Has My Jaw On The Floor
Matt Winkelmeyer/Getty Images Entertainment/Getty Images Stuart Franklin/Getty Images Sport/Getty Images
Hailey Baldwin and Justin Bieber are reportedly engaged after the pop singer supposedly popped the big question while the two were vacationing in the Bahamas together on July 7. While there hasn't been any confirmation of their engagement as of yet, social media has been buzzing about the rumored news. And now the first photo of Hailey Baldwin's reported engagement ring has just surfaced — and can I just say, wow.
Elite Daily reached out to representatives of Baldwin for comment on the reported ring, but did not immediately hear back.
On July 8 TMZ broke the news that Bieber and Baldwin are reportedly engaged to be married. While on vacation at a resort in the Bahamas, Bieber apparently popped the big question over dinner in front of everyone dining on the property. TMZ reports that Bieber's security personnel asked all the other patrons to put away their cell phones right before he proposed to Baldwin, so there aren't currently any photos of any actual engagement floating around the internet.
But a picture of what looks like the first glimpse of Baldwin's reported engagement ring has surfaced, and the world rejoiced. Photos of Baldwin and Bieber on their vacation have been popping up on Instagram, and in one particular snapshot there appears to be a giant diamond ring on Baldwin's left hand, and on a very particular finger. It's not the best picture, and you really can't tell exactly what the ring looks like since the shot was taken from pretty far back. But one thing's for sure — this rock is absolutely massive.
If you can tell that a girl looks like she's wearing an engagement ring from this far away, you know that thing must have cost a very pretty penny.
Clearly, 2018 has quickly become the year of high-profile surprise celebrity engagements. First Ariana Grande and Pete Davidson got engaged after reportedly only dating for a few short weeks, and Baldwin and Bieber have taken notes from them and seemingly followed suit.
Baldwin and Bieber have a bit of a romantic history. The two have been friends for a number of years, and very briefly dated towards the end of 2014. The two remained friends following the split and lead their separate lives. Fast forward nearly four years later to 2018, and the couple have rekindled their romance and are apparently headed to the altar, if the rumors are true. What can I say — when you know, you know, right?
Rumors that Baldwin and Bieber started dating again surfaced in June, after the two were spotted spending a considerable amount of time together in Miami. Since then they've been photographed holding hands on multiple occasions, which is as good of a "we're back together" confirmation as the world can get. And these pictures from their Bahamian vacay is the best current evidence that this engagement is actually legit. Whether you're excited about this engagement or not, you have to admit that these two look pretty adorable together, and I am here for it one hundred percent.
Until either Baldwin or Bieber (or both of them) confirm the news themselves, the world will have to keep guessing whether or not these engagement rumors are true or not.
For what it's worth, I personally am convinced that this is the real deal. The picture of Baldwin's reported ring are definitely not the best of evidence, but the proof is in the pudding. When I spot a rock like that on a woman's left ring finger, my mind will always thing "engagement ring" before anything else. So I'm going to send my premature congratulations to the happy couple, and hope that my intuition on this rumor is true. I mean, think of how amazing that wedding would be?! Who doesn't wanna see that happen?