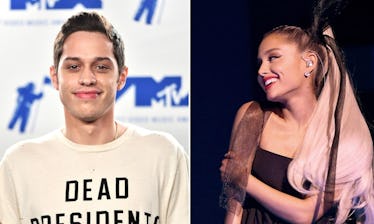 Ariana Grande & Pete Davidson Went Ice Skating & It Seemed Like The Chillest Date
ALBERTO E. RODRIGUEZ/GETTY IMAGES ENTERTAINMENT/GETTY IMAGES // KEVIN WINTER/GETTY IMAGES ENTERTAINMENT/GETTY IMAGES
It looks like Ariana Grande and Pete Davidson have weathered the storm over the SNL comedian's reported joke about the Manchester bombing. Hours after the "No Tears Left To Cry" songstress took to Twitter to ask fans to give her fiancé a second chance after the "unfortunate" reported joke, she took to the rink to blow off some steam with her love. Ariana Grande and Pete Davidson went ice skating in NYC, and the chill date proves that they're stronger than ever.
It's been a tough week for the pair, but Grande is standing by her man after he reportedly made a joke in poor taste about the bombing at her concert at the Manchester Arena on May 22, 2017. Of course, his reported joke left fans infuriated. However, on Friday, June 7, the pair looked closer than ever as they spent a day ice skating at a New York City rink, according to the The Daily Mail.
Proving that she's ready to let bygones be bygones, the 25-year-old songstress took to her Instagram Story to share a video of the lovebirds skating while holding hands, and her caption is so telling.
"Dis always makes me feel," she wrote, alongside an emoji of praying hands and a cloud. They were twinning in the style department, as Grande donned an oversized black hoodie, loose-fitting jeans, and a cat ear headband. Davidson put his own spin on a black sweatshirt, gray sweatpants, a white baseball cap, and black face mask embellished with a white moon. It looks like Gravidson (my personal pick for their couple nickname) is definitely back in full force.
She then shared a shot of the sky with an inspirational message: "Stay present. Be kind. Be grateful. Be well."
Just one day earlier, the singer headed to Twitter to share her thoughts on the offending joke in question, which he reportedly made during a stand-up routine last year in Los Angeles, per the Mirror. Elite Daily reached out to Davidson's team for comment about the reported joke, but did not hear back by the time of publication. While Grande stuck up for Pete in response to a fan's message, she set the record straight by admitting that no, she didn't find it funny, and yes, she feels "conflicted" by it.
"This has been v tough & conflicting on my heart," she responded. "He uses comedy to help ppl feel better ab how f-ed up things in this world are. we all deal w trauma differently. I of course didn't find it funny. it was months ago & his intention wasn't/ is never malicious but it was unfortunate."
The controversial reported joke — which implied that Grande must realize how famous she is now because "Britney Spears didn't have a terrorist attack at her concert," according to the Mirror — apparently occurred five months ago and way before the Saturday Night Live comedian met his current wife-to-be. However, it hit particularly close to home, because the attack took place at Grande's May 2017 concert in Manchester, England. Since then, she's commemorated the 22 victims who lost their lives during the blast with a bee tattoo and headlined a One Love Manchester Benefit concert to raise money for the families of the victims. Needless to say, Arianators were outraged by Davidson's tasteless reported joke.
Now that Grande's said her piece, it looks like she's ready to move on, and she's standing by her man. While I was disappointed to see the reported joke resurface earlier this week, her response that "we all deal w trauma differently" could hold up in this case. After all, Davidson has built a career on creating comedy skits about taboo topics.
In fact, representatives for Davidson said in a statement to Metro that "No subject is off limits and that includes jokes about his father and 9/11." Firefighter Scott Davidson lost his life during the terrorist attacks on September 11, 2001, and both the comedian and Grande have matching tattoos that pay homage to him.
Now, it looks like the newlyweds-to-be have survived the controversy and come out stronger on the other side.