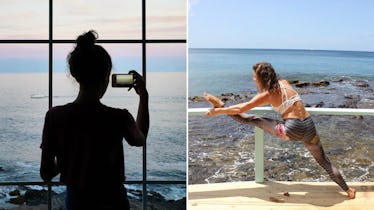 The Best Wellness Retreats For People Who Are Stressed TF Out & Need A Break
Congratulations friends — you are officially on the brink of summer, aka the season of rest and relaxation, aka three months of nothing but sun, sand, and poolside hangs. You're on the cusp, but there's a huge difference between daydreaming about taking a load off, and actually going through the motions of putting your feet up and chillaxing. Plus, if you're working at a high-pressure job, taking summer courses, or just trying to balance a really busy schedule, vacation might be a long time coming. No worries, though, because the best wellness retreats for stress are geared toward people just like you who are strung out, need a break, and only have a few days to kick back. So if you're stressed with limited "me" time to decompress, you might want to consider slightly quicker fixes until that two-week vacay is approved and booked.
I know myself, and I hardly ever think I actually need a vacation. I may want a vacation every other month (just ask my husband, he hears all the complaints), but the truth is, I'm a workaholic. So even when I can feel life taking a toll on my mental health, I'm likely to ignore the warning signs and push through for the sake of a deadline. Trust me, friends, do not live by my example. You and I could both use a little R&R, so even if you don't have a ton of time to spare, sometimes a long weekend is all it takes to reboot, and these luxurious retreats are an incredible place to start.