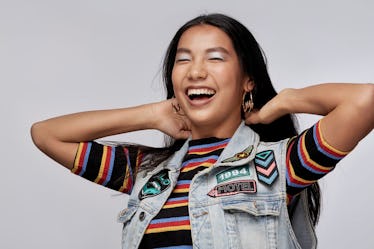 The 5 Easy Ways To Start Living In The Moment Because The Past Is Behind You
It's difficult to live in the now. In fact, it might be one of the most difficult things there is to do, since the world is practically built of distractions. We always seem to be planning for the next step, or rewinding the tape on things that have long since passed. While sure, everyone wants to know how to live in the moment and be fully present, actually being able to do it is a whole other can of worms.
So, what is it that actually makes it so freakin' difficult to just be here now? At least for a minute or two? Well, as therapist Julia Colangelo, LCSW, explains to me, the present moment is often the most painful to be within, because it can be a little scary. She says, "the past and future are both areas where people can (falsely) feel in control," she says, "but the present moment, where they have a say, is often overlooked."
And yes, it's also a struggle to fully engage in the present moment because forward and backward thinking are how we plan our days, she points out. It's all lists, appointments, expectations, dates, meetings, deadlines, you name it. But noticing how being present really can lead to more inner peace and calm.
So if you feel like you have trouble just enjoying the moments of your day as they pass, take a few of these tips from pros about how to start enjoying life from exactly where you are.