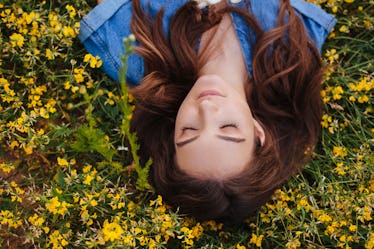 5 Things To Know About A Sound Bath Before Trying It, Like The Fact That It Isn't Actually A Bath
When I think of the term "sound bath," I automatically think of my sh*tty shower radio that plays aggressively mediocre music while I'm trying to relax in the tub. But "sound bathing" as a totally real, ancient, alternative healing practice would honestly never have crossed my mind — until now, that is. For real though, what is a sound bath? Well, for one thing, it has nothing to do with your favorite Lush bath bomb, I can tell you that much.
The first time I participated in a sound bath myself, I was enamored, pleasantly surprised, and TBH, I didn't even know I was "sound bathing" in the first place. My yoga instructor started playing music with Himalayan singing bowls (they're basically large bowls that create sweet sounds and sonic waves when you come in contact with the rim) while we were laying in savasana, and the experience was incredibly captivating. But I wouldn't have had a clue it was known as a sound bath until I did some research.
Sound bathing goes as far back as the times of ancient Greek philosophers, who used the frequencies as a form of medicine to treat a myriad of ailments. The waves of sound (which are produced by Himalayan singing bowls, crystal bowls, gongs, biosonic tuning forks, shamanic drumming, and more) are said to calm the nervous system and balance the subtle body. The subtle body refers to energy that vibrates throughout the innermost layers of the body, beyond what we typically only physically conceive of the human body. Yeah, we're getting deep here, fam.
In addition to balancing the subtle body, this holistic practice of sound bathing has also been known to work wonders for stress relief, insomnia, anxiety, chronic pain, and even depression.
So, now that you know you won't be taking a naked dip in some bubbly, scented goodness, here are five things to know before you reap the extensive benefits of bathing in the sound.