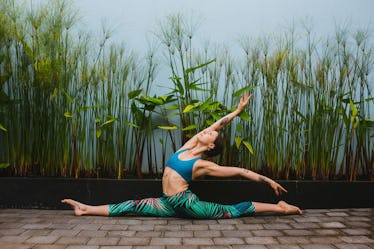 The Best Yoga Retreats In The U.S. Will Help You Unplug & Unwind On Your Next Vacation
In 2017, I went on my very first yoga retreat in California, and it was completely magical, to say the least. And though my ultimate dream is going on a retreat in Bali or Thailand, the yoga getaway I attended right here in the United States was actually more incredible than I ever could've imagined. There are so many amazing yoga retreats in the U.S. that you don't have to travel all that far to get to, and each one is sure to leave you feeling fulfilled, relaxed, and blissed out in the best way possible.
Now, if you've never gone on a vacation like this, rest assured, there are a ton of perks to using your PTO for a yoga retreat. Personally, I think the best benefit of all is that you're literally focusing on both your mental and physical well-being the entire time you're away. From daily meditation and mindfulness, to immersing yourself in the beautiful nature surrounding the retreat center, to massages and spa treatments galore, yoga retreats are pretty hard to beat when it comes to planning a vacation.
If you're looking for a getaway filled with the tastiest healthy meals, a copious amount of downward dogs, and so much more, these seven yoga retreats in the United States will be right up your alley. Hope you have an OM-mazing time!