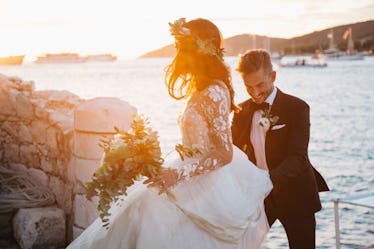 The Perfect Reception Outfit For Each Bride, According To Her Zodiac Sign
If you're about to get married, then you probably have a lot of decisions to make. You've spent the last few months planning every single detail of your special day. You took engagement photos and toured a couple of venues before settling on the most elegant spot near the beach. Everything will look lovely, simply because you've put so much time and effort into the little things, like picking out flowers and chalkboards for labeling the tables. The ceremony will be romantic, but after you say "I do," it's all about the reception. The best reception outfit for every bride is purely based on her zodiac sign. So, look to the stars when it comes picking out what to wear.
It was a whirlwind picking out your wedding dress. You wanted something that would make it look like you were floating down the aisle. Not to mention, all of those episodes of Say Yes To The Dress set the standards pretty high. You found exactly what you were looking for, though, and are now considering purchasing a second outfit for the party part of the evening.
Once the cocktails are poured, it's all about hitting the dance floor and partying with your friends and family. You'll be wide awake until dawn, celebrating the start of such an amazing adventure. Having the right look is so necessary, and you'll want to leave your reception outfit to the fashion sense of the stars.