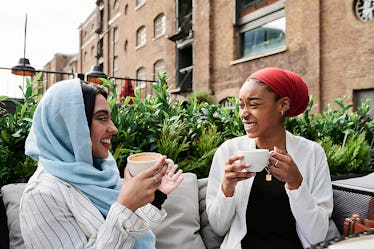 These 3 Zodiac Signs Make The Most Supportive Maids Of Honor
Astrologically speaking, certain people are just destined to be the best maids of honor. No matter their sign is, your maid of honor or "man of honor" or best "bridesmate" should be a ride-or-die. They should be your BFF or a sibling you're close with — or anyone near and dear to your heart whose unending support you want to celebrate on your special day.
But, with that being said, certain signs are particularly well-suited (or not) to maid-of-honor duties. Take someone who is a Taurus, for example. Symbolized by the bull, Taureans are stubborn AF. Never mind what you want for your wine selection or cake flavor. If they've got their heart set on a Riesling and red velvet, a Taurean maid-of-honor could do more harm than good.
A Virgo could turn that same hard-headedness to your own desires. But their uptight nature wouldn't leave room for switch-ups or spontaneity. On the other end of the discipline spectrum, a Sagittarian maid of honor could be a disaster, too. A Sagittarius' free-spiritedness would make them ideal for a bachelorette party, but would they even make it that far — with planning, that is? Likewise, a Leo would make sure the looks, the venue, and your honeymoon are as glam as possible. But you'll look around and find, suddenly, that everything revolves around them.
So in turn, here are three zodiac signs with the passion, leadership skills, and empathy needed to be an A+ maid of honor.