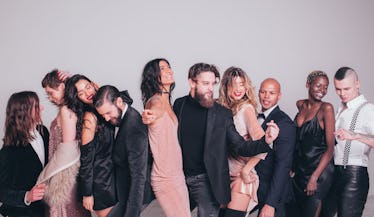 Bridesmates, Groomsmaids, & Men Of Honor: Welcome To A Gender-Neutral Wedding Party
Weddings today aren't quite like they used to be. For the most part, yes: Modern weddings borrow protocols, ceremonial structures, and customs dating back hundreds (sometimes, thousands) of years. But there are all sorts of fresh twists people are putting on getting legally boo'd up, and one of those is the choice to have a gender-neutral wedding party. Traditionally, people assign bridesmaids to the bride and groomsmen to the groom. But who says that this has to be the case? Often, the leap to rejecting gender binaries isn't so big, because one or both of the nearlyweds are queer, genderqueer, or non-binary. But as wedding planner Sarah Pete Rizzi, owner of Sincerely Pete Events, points out, "A lot of my opposite-sex couples also have mixed-gender wedding parties."
Queer and straight alike, spouses-to-be are opting for gender-neutral wedding parties. And the reason why comes down to this: Just because one of your dearest friends or family members a different gender than you doesn't mean they should to be cut out of the picture. It's your wedding, so you ought to make sure it's exactly what you want — down to who stands by your side on your special day. That being said, because weddings often embrace tradition, it can be tough to figure out how to forge ahead and have a gender-neutral wedding party. Here's some tips and advice from Rizzi, other planners and people who have gender-neutral wedding parties.