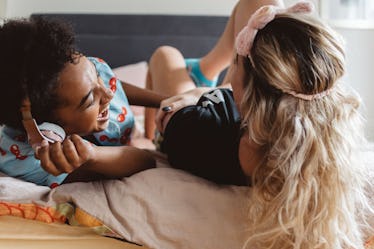 7 Staycation Bachelorette Parties That Bridesmaids Can Actually Afford & The Bride Will Love
Your bestie just got engaged, which means two amazing things. First, you're so excited, because you get to be a bridesmaid and go to the dress fittings, rehearsal dinner, and bridal shower. You may even help your favorite couple on the planet decide on a photographer, and find the perfect venue. Second, you have to a plan a bachelorette party — a celebration that the bride-to-be will totally love, and that you can actually afford. (Did I mention that you're picking up the tab? Yikes!) Truth is, you want this event to be so elaborate and special, but it can't break the bank. That's where I come in with some staycation bachelorette party ideas. Thank me with a goodie bag, OK?
These are the parties that are so #underrated. In my opinion, they beat hopping on a plane to an expensive party city. I know it's a bold statement, but it's just so true. These party ideas are more personal and give you the time and space to enjoy your bestie's company. You'll reminisce on the most beautiful parts of her relationship with her fiancé, in addition to your friendship.
These ideas channel her love for astrology, wine, or being in the outdoors, and allow you to stay under budget. What more could you ask for?