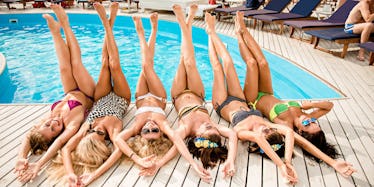 11 Badass Bachelorette Party Ideas That Are Anything But Basic
Shutterstock
Listen up, gals. It's your responsibility to make an awesome plan for your bride's bachelorette party that she'll remember and cherish for the rest of her life.
Live. It. Up.
It's time to pamper her. This night is all about the bride, and you have to be 100 percent team her. Give this your all!
Anything goes for her last night of being single, and it's a prime time to bond with the squad before her big day.
There are so many creative things to do in every budget, even if you're broke AF. You can go all-out DIY for the bachelorette party favors -- from creating a veil for the bride to making buttons or funky T-shirts the bachelorette party members can wear.
We all know a weekend in Vegas is super fun, but I came up with a bunch of unique, out-of-the-box bachelorette party ideas she'll totally love.
1. Get a weekend rental with a pool, complete with a DJ Chef.
Why not extend the fun and make an entire weekend out of it? Eat, drink, soak up some rays and jam to your favorite songs with a DJ Chef.
DJ Chef will pamper your every need -- cooking all of your favorite meals for you while also getting the party started.
Feast on delish food, complete with cocktails, music and dancing by the pool without leaving the comfort of your spectacular weekend retreat. Pack a couple of chic bathing suits, sun hats and sunnies, and you will be all set.
Make up a creative menu itinerary, and present her with the plan rolled up in a bow.
2. Rejuvenate and focus your mind, body and spirit at a yoga retreat.
What better way to relax and chill together than going on a yoga retreat? If your bride is a passionate yogi, then this bachelorette party idea was made for her.
After months of wedding decisions, shopping and planning, this spectacular plan will be an enormous hit. It will be a relaxing vacay to put her mind at ease and enjoy some much-needed time with her main gals.
Give your guest of honor a new yoga mat, and write out her invite on it.
3. Spend the weekend at a wine vineyard and drink up!
A wine vineyard is the ultimate place for incredible pics, especially if your bride is a passionate wine lover. Book a tasting, tour the vineyard and have a picnic in the ultimate setting.
Any Pinterest-worthy plan deserves a great presentation. A picnic basket and wine bottle from the vineyard with a custom invite on the label will work just fine.
4. Get your "glamp" on.
OK, if your girl likes the idea of camping but is a luxurious kind of a gal (she's SO not about sleeping bags and tiny tents), consider "glamping," the glamorous version of camping. There are even chic tree houses you can rent.
Glamping is trendy, fun and there are a ton of locations throughout the world. Soak in the beautiful scenery, pop some bottles and enjoy. A great photo of the adorable tree house will be everything for your invite. Attach your invites to s'mores-making kits.
5. Plan an overnighter on a sailboat or yacht.
Order fancy takeout and bring on the champagne, chocolate-covered strawberries and gourmet popcorn. Cater the food, hire the sexiest bartender you can find (obviously), and the sky's the limit with crazy shenanigans and creativity. Party the entire night away on your boat rental or chill with an outdoor chick-flick movie marathon.
Send the bride-to-be a preview of goodies bundled up in a pillowcase (which will be the invitation, signed by all, of course). Include champagne, lingerie, cookies, movies and matching sleep T-shirts for the squad.
6. Go paintballing.
Remember: This plan is all about your bride-to-be. If she's an adventurous kind of gal, kick it up a notch and plan an event she will remember and totally love. Request a private session or arrange to play paintball against the groom and his groomsmen. Then, retreat with a girls-only dinner and drinks.
Paint her invite to set the tone, of course. Get your camo on!
7. Book a pole dancing class.
Let's be real here, any kind of dancing is always a fun plan with the crew.
Pole dancing makes it more fun for her bachelorette party, and it's even an awesome workout. Have someone take a video and pole dance the night away.
8. Spend the weekend at a dude ranch.
Dude ranches have so many activities going on, including line-dancing classes, cooking classes, mountain biking and rock climbing. There's also an epic nightlife scene to party the night away. Bring on the drunken karaoke and dancing!
9. Take a cocktail-making class, and turn it into an epic bachelorette night.
Mixology classes are available in most cities. Whether it's at a trendy bar or restaurant -- or you make it a private party -- it's sure to be an evening filled with fun and lavish drinks. Plan it along with some great appetizers, and you seriously can't go wrong.
Hand-painting a combination of mismatched funky stemware for the bride-to-be is a great way to start off the night. Bring on the glitter and gems.
10. Party it up at adult camp.
Find an adult camp near you that offers all of the fun outdoor activities and nightlife. Water skiing, wakeboarding, and hiking make for a prime weekend of ultimate memories. Hit up the silent disco at night!
11. Have a cooking-class party.
If she loves to cook and is a passionate foodie, she will go crazy over this plan. If she doesn't know HTF to cook, she quite possibly needs this plan. Help a gal out! Most cooking classes prepare an entire meal -- and then you can eat it (which is the best part of it all).
If you're planning a cooking-class party in NYC, you can even sign up for "Battle of the Brides" and compete against other bachelorette parties. Create the most delicious meal to win the "Best Bride" title.
Personalize a cute apron for her, and set the plan in motion.
It's your group of girls who will make whatever plan you choose a fun and memorable event. Just about any of the categories can be tweaked to your preference and budget -- whether you decide to go all-out DIY or splurge on a weekend plan. Think about what she will love, and go for it!