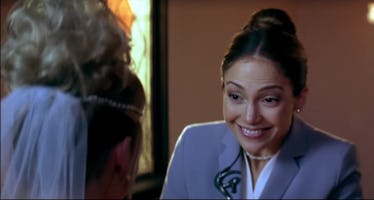 6 Wedding Planners Reveal The Secrets Every Bride Should Know, & They're Genius
For anyone who's seen the movie Bride Wars, it's common knowledge that planning a wedding is serious business. Well, it's about as serious as you want it to be, but if your goal is to have your dream wedding — whatever that may look like — it will probably take a lot of work. Enter, wedding planners: the magical fairies who make putting together a wedding fit for Pinterest look easy. How do they do it? How are they so amazing? Well, the world may never know that much, but these secrets every bride should know, straight from wedding planners themselves, are basically the wedding equivalent to your grandma's secret brisket recipe. In fact, they're better.
I spoke with six wedding planners about the wedding planning secrets every bride should know, and they delivered! Ashley Bourque of Nashville, Tennessee; Sacoya Jenkins in Charlotte, North Carolina; Liz Ise of Dallaz, Texas; Alana Futcher representing Charlottesville and Richmond, Virginia; Skylar Caitlin from Houston, Texas; and Lauren Harbin in Washington, D.C., all work for wedding design and planning company, Chancey Charm. These planners have put together some simply stunning weddings, and have been gracious enough to fill me in on the most important things a bride should know.
Here are their secrets.