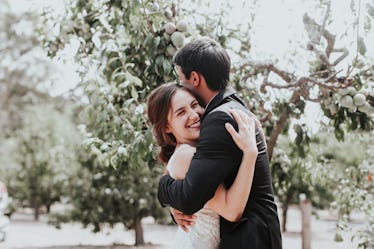 15 Photos That Prove Why Fall Is The Most Beautiful Season For Weddings
Every season has its moments, but fall is arguably the most photogenic of them all. The changing leaves add natural color to even the most gorgeous of backdrops, and yet there's still greenery to utilize in pictures. No matter what coast you call home, the fall foliage is easy to take advantage of when choosing a color palette and a theme. From succulents and sunflowers to pumpkins and gourds, nature provides so many pretty details to play with in autumn. September, October, and November are ideal months to get married, and these photos of fall weddings are proof.
Elite Daily spoke to five different couples, all of which decided to have fall weddings. They chatted about why they chose this time of year to get hitched, where their inspiration came from when deciding on their theme, colors, and decor, how they ultimately chose their venues, and more.
Whether you're currently planning your own big day, you're starting to think about having a fall ceremony, or you simply enjoy looking at beautiful wedding photos, these 15 selections are sure to have you dreaming about getting married in autumn. Fall might just be the prettiest time of year to tie the knot. If you need convincing, take a look at these pictures.