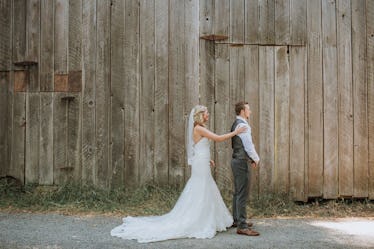 30 Captions For Barn Wedding Pics This Fall That'll Give You All The Feels
Fall is in full swing, so along with the changing leaves and all the PSLs your heart could ever desire, it also means it's the season for barn weddings. Barn weddings always have that special element of rustic chic that's really romantic for the bride and groom, as well as their guests. If you're headed to any fun weddings this season, here are some Instagram captions for fall barn weddings.
A barn is a really cool space to celebrate a wedding. It looks like it's straight off a Pinterest board, and it's versatile enough to cater to the personalities of each couple who celebrates their special day there. Fairy lights, succulents, gorgeous flowers, and wooden signs all make for perfect decorations. Wooden barn walls make for gorgeous backdrops for your pics, and you can dance the night away in beautiful surroundings. Barns plus fall plus weddings equals a combination made in heaven, in my personal opinion.
So when you head off to your next barn wedding, keep these captions in your back pocket. You will surely be making a ton of memories that will be Instagram-worthy, and you'll want to post every single picture you take. Breathe in the memories, and have the time of your life.
1. "Love your spouse more than you love your career, hobbies, and money. That other stuff can't love you back." — Dave Willis
2. "You can't tell me fall isn't the perfect time to vow your forever to someone." — Unknown
3. "If someone sticks by your side through your worst times, they're the ones who deserve to be with you through your best times." — Unknown
4. "Sometimes you fall in love with the most unexpected person at the most unexpected time." — Unknown
5. "The real act of marriage takes place in the heart, not in the ballroom or church or synagogue. It's a choice you make — not just on your wedding day, but over and over again — and that choice is reflected in the way you treat your husband or wife." — Barbara De Angelis
6. "The leaves are changing, and so are their lives." — Unknown
7. "Together is a beautiful place to be." — Unknown
8. "I still fall for you every day." — Unknown
9. "Love is friendship caught fire." — Laura Hendricks
10. "Happiness is being married to your best friend." — Unknown
11. "Marriage is about becoming a team. You're going to spend the rest of your life learning about each other, and every now and then, things blow up. But the beauty of marriage is that if you picked the right person and you both love each other, you'll always figure out a way to get through it." — Nicholas Sparks
12. "You don't marry someone you can live with, you marry the person who you cannot live without." — Aleatha Romig
13. "You don't love someone because they're perfect, you love them in spite of the fact that they're not." — Jodi Picoult
14. "May your life together be full of love and your love be full of life." — Unknown
15. "If there's even a slight chance at getting something that will make you happy, risk it. Life's too short and happiness is too rare." — A.R. Lucas
16. "Because tonight will be the night that I will fall for you, over again." — Secondhand Serenade, "Fall For You"
17. "And in the end, the love you take is equal to the love you make." — The Beatles, "The End"
18. "The best kind of wedding is one that leaves your bellies (and hearts) full." — Unknown
19. "When I fall in love. It will be forever." — Celine Dion, "When I Fall In Love"
20. "He stole her heart, now she's stealing his last name." — Unknown
21. "Love recognizes no barriers. It jumps hurdles, leaps fences, penetrates walls to arrive at its destination full of hope." — Maya Angelou
22. "Pop the bubbly, she's getting a hubby." — Unknown
23. "When you realize you want to spend the rest of your life with somebody, you want the rest of your life to start as soon as possible." — Harry, When Harry Met Sally
24. "Here's to love and laughter and happily ever after." — Unknown
25. "Hand in hand, heart to heart, on this day your adventure starts." — Unknown
26. "Love is meant to be an adventure." — Gordon B. Hinckley
27. "How do you spell love? You don't spell it, you feel it." — Piglet and Pooh, Winnie the Pooh
28. "I think I'm falling for you." — Colbie Caillat, "Falling For You"
29. "Their love is unbeleafable." — Unknown
30. "And they lived apple-y ever after." — Unknown