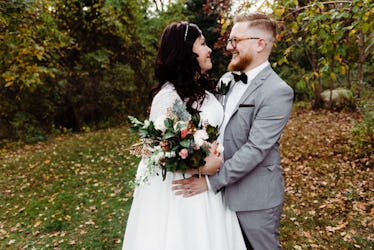 20 Captions For Fall Weddings, Because The Love Is Simply Unbeleafable
Getting married among the fall foliage is one of the most romantic backdrops a bride and groom could ever have. Those wedding pictures are going to be so magical, and if you're attending this lovely affair, you'll feel Mother Nature's blessing, too. No offense to the cameraman or anything, but you'll want to snap a few pics of this perfect day with your phone. Finishing them off with fall wedding captions will have your followers in their feelings as much as you are.
Fall is full of change, growth, and renewal. The colors of the beautiful leaves surrounding the ceremony can attest to that. A wedding embodies so much of the change that's unfolding on that beautiful fall day. Two people are adding another milestone to their lives and are dedicating themselves wholeheartedly to each other.
If it's your main girl who's tying the knot, you know for a fact that you've seen her transform into the beautiful bride who will be walking down the aisle. You've been here for the entire process, even the first time you knew she had truly fallen for her partner. This presence of positive change is truly all over the place. (Just ask the fifth tissue you'll use before the ceremony even starts.) These 20 captions range from sweet to insightful, so get ready to cry all the happy tears.
1. "You can't tell me fall isn't the perfect time to vow your forever to someone." — Unknown
2. "Sometimes you fall in love with the most unexpected person at the most unexpected time." — Unknown
3. "I still fall for you every day." — Unknown
4. "I couldn't imagine a better way to spend such a lovely fall day." — Unknown
5. "The leaves are changing, and so are their lives." — Unknown
6. "Fall is the perfect preparation for new beginnings." — Unknown
7. "And suddenly you know: It's time to start something new and trust the magic of beginnings." — Meister Eckhart
8. "It is such a happiness when good people get together — and they always do." ― Jane Austen
9. "Here's to new beginnings."—Unknown
10. "The bells rang, and everybody smiled." ― Jane Austen
11. "Because tonight will be the night that I will fall for you, over again." — Secondhand Serenade
12. "Who wouldn't want to get married in a room full of love stories?" ― Jen Campbell
13. "And in one moment, their hearts became one." — Unknown
14. "My love for you is a journey; starting at forever and ending at never." — Unknown
15. "I feel like everything in my life has led me to this, right now and right here." — Unknown
16. "The minute I heard my first love story, I started looking for you." — Rumi
17. "I love [you] and that's the beginning and end of everything." — F. Scott Fitzgerald
18. "There is beauty in simplicity." — Unknown
19. "May the forest be with you." — Unknown
20. "You don't marry someone you can live with, you marry the person who you cannot live without." — Aleatha Romig