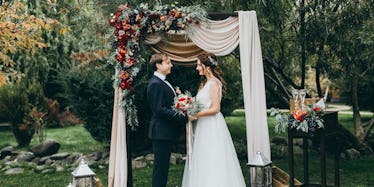 20 Gorgeous Fall Wedding Ideas You'll Immediately Say "I Do" To
shunevich24/Fotolia
Weddings and autumn are two of the most beautiful things to ever exist, so why not combine the two? With the colorful fall foliage everywhere you look, there's inspiration and decor for your big day all around you. Getting married in the fall can be a once-in-a-lifetime autumnal adventure, so plan accordingly, and draw some major inspiration from these stunning fall wedding ideas.
Grab a pumpkin spice latte, take a seat, and get ready to scroll thorough the depths of Pinterest for your autumn wedding inspiration. From fall bouquets to pumpkin decor, you can find everything you need for your big day. Before you know it, you'll have planned more than one ceremony, because planning fall weddings is just that fun.
You'll have plenty of warm colors and welcoming vibes to treat yourself and your guests to a day of love and celebration. It's time to think about incorporating the season into your big day, because it will certainly be here before you know it. To help get you started, here are 20 gorgeous fall wedding ideas to make you instantly say, "I do."
1. Use seasonal colors to inspire an elegant wedding cake just like this one.
15 Fall Wedding Cakes Are All The Convincing You Need For An Autumn Weddinghttps://t.co/wwce1ZK06M pic.twitter.com/qNbKrOvwPw — safiya Kluge (@safiyakulge) August 1, 2017
2. Put fall foliage into use to accent your ring photography.
Planning a fall wedding? Give us a call! Tip: Ask your photographer to ride along to capture those special moments! #pdx #weddings pic.twitter.com/M3MlF128lb — VIP PDX (@VIP_PDX) August 1, 2017
3. Fall is the perfect time to incorporate everyone's favorite seasonal food into your menu.
For a fall wedding, these mini grilled cheese sandwiches with tomato soup shooters are ingenious. #chicagobrides #weddingplanning pic.twitter.com/FaDvBAfS9n — Bridal Expo Chicago (@BridalExpoInc) August 1, 2017
4. You cannot go wrong with hot chocolate on a chilly fall day.
Fall wedding idea: mugs of hot chocolate rimmed with crushed graham crackers accompanied by s'mores. #fallwedding … https://t.co/hk7A7Ayt1H pic.twitter.com/UiAAOoge22 — Grand Rental Station (@GrandRental) July 31, 2017
5. Autumn basically gives you and your bride tribe the perfect color scheme.
Please RT #weddings #brides Ethereal Fall Mammoth Lakes Wedding: Lauren + Travis https://t.co/bF3vQTWAUo pic.twitter.com/ve6h8Kt9qD — Nice Weddings (@weddings_nice) July 30, 2017
6. If you're really into fall, this might just be the perfect backdrop for the ceremony.
Please RT #weddings #brides Pumpkin-Filled Fall Wedding at Moss Mountain Farm https://t.co/hRoV1epv5D pic.twitter.com/IIBDR7x3QB — Amazing Weddings (@allweddingss) July 29, 2017
7. Autumn is the perfect time to embrace that vintage or rustic look, like at this long table.
What we're SMITTEN with on Pinterest: Wedding Tablescapes: Rustic fall tablescape: https://t.co/jN3dl5e43f https://t.co/jnAOnweWVn pic.twitter.com/FlvCk8AJPc — Smitten Weddings (@smittenwed) July 28, 2017
8. A beautiful couple and some fall foliage makes for stunning portraits.
Please RT #weddings #brides Fall Vermont Barn Wedding: Jackie + Jake https://t.co/hgXXUP0kRF pic.twitter.com/OmZuCnC4xm — My Perfect Wedding (@weddingperfectt) July 28, 2017
9. Let the season inspire your beautiful bouquet.
Planning a #fall wedding? Check out this Pinterest board for wedding trends: https://t.co/83fkw2B8JS pic.twitter.com/oJdjH2txVZ — Elegance Wedding (@eleganceindiana) July 25, 2017
10. The long grasses and golden light creates the perfect romantic atmosphere for your "I do's."
Thinking of a fall wedding? Check out how we had a fabulous fall wedding on a shoestring! https://t.co/XPklWqM6Iw pic.twitter.com/mVZuDfCEwH — MadMoneyMonster (@MadMoneyMonster) July 25, 2017
11. If your bridesmaids gowns look anything remotely this beautiful, your autumn wedding will be one for the books.
How stunning is this bride in her yellow dress?! We think it's perfect for a fall wedding... #onGWS: https://t.co/B6N7RZHWbK pic.twitter.com/MI1CIg6GmC — Jen Campbell (@grnweddingshoes) July 23, 2017
12. The muted fall tones can make their way onto your invitations, welcoming guests with a warm seasonal greeting.
Some pretty little invites I put together for a pretty little bride and her fall wedding. Florals are my current jam. pic.twitter.com/vG0993PBW1 — KenzO (@koshiz) July 22, 2017
13. Don't be afraid to go for something a little less traditional this fall.
Please RT #weddings #brides Fall Floral Wedding Inspiration https://t.co/fDiwVSmcAt pic.twitter.com/pEj46KnkhV — Just Wedding (@wedding_just) July 21, 2017
14. An intimate, romantic ceremony space isn't hard to come by in the fall.
Please RT #weddings #brides Bohemian Fall Wedding in Texas Hill Country: Caitlin + Brandon - Part 1 https://t.co/pDNftXD5mN pic.twitter.com/4rBYG840Sd — Amazing Weddings (@allweddingss) July 20, 2017
15. Some of the most unique flowers are in season in the autumn, which make for a once-in-a-lifetime decor opportunity.
In case you missed it, these are the flowers you should use for your #fallwedding! https://t.co/OoyXGyrBk8 pic.twitter.com/hv2apnWNcW — David's Bridal (@davidsbridal) July 20, 2017
16. Bring the autumn indoors for an elegant reception and dining space.
You're sure to fall in love with Erica and Enho's vineyard #wedding captured by @MANGOSTUDIOS: https://t.co/hFu0kDgqxJ pic.twitter.com/ap0xf9g43e — EventSourceCA (@EventSourceCA) July 19, 2017
17. Is it even fall without apple pie?
If you are you handy in the kitchen, you may want to create these delicious fall wedding favors: Apple pie In a can! https://t.co/xMAM1gOMfx pic.twitter.com/oBe81guSMe — Bodas y Weddings (@bodasyweddings) August 8, 2017
18. Adorable? Yes. Basic? Never.
Fall wedding in your future? Kendra, one of our Bride Specialists, has limited reservations in Sept & Oct. Reserve today! 208.258.7054 pic.twitter.com/y8sZeMunTC — e Salon and Med Spa (@eSalonandMedSpa) July 12, 2017
19. Take advantage of the seasonal produce for instantly adorable decor.
Found this on #pinterest Nice idea for our fall wedding pic.twitter.com/ZVj0LYeBmT — Terra Jean (@BookDragon_30) July 12, 2017
20. Stick to one fiery fall color to really make an impression on your guests.
Cheery Bohemian Fall Wedding Arch via Amilia Photography / www.deerpearlflow... https://t.co/pW5AQACjW6 pic.twitter.com/YdEnx2I9O3 — WEDSITES (@WEDSITES) July 11, 2017