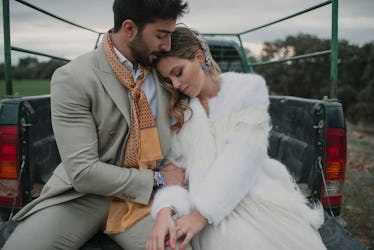 You Should Have A Small Wedding, If These 5 Reasons Speak To You
When planning a wedding, one of the most important considerations to tackle from the get-go is the size of the affair. While some may fantasize about an enormous bash, complete with second cousins and acquaintances, others prefer a more intimate celebration. If you suspect you fall in the latter category and you're wondering, "Should I have small wedding?" you should know that there is definitely no shortage of perks to a small wedding. Not only can you potentially save on money and stress, but you can also incorporate more personalized touches for guests.
According to The Knot's 2018 Real Weddings Study, which surveyed more than 14,000 brides and grooms, the average number of wedding guests is 136, and the average cost of a wedding is $33,931. While there are many reasons why you may be tempted to invite everyone and their brother, the reality is that a big wedding isn't for everyone. And it's not just a matter of finances, either. A smaller, more intimate wedding can have a completely different vibe, as well as unlock a lot of additional creative possibilities in terms of the environment as well as other elements for both the ceremony and reception.
So, is a small wedding right for you? Here are five reasons why you might want to consider cutting down the guest list.