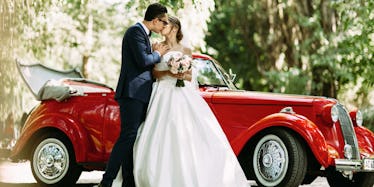 These Are The 10 Wedding Planning Tips You Need To Know If You're Broke AF
Shutterstock
After you tie the knot, dreaming about your new life with your hubby is, in a word, exciting. But the cost of everything that comes with planning a wedding? Not so much.
The prices associated with having a wedding have reached insane and unreasonable amounts. To be honest, if you're broke AF, this probably makes you want to scream, "WTF?"
As if there's not enough pressure for a newly engaged couple to deal with, the stress of spending so much money when just starting a new life together can be overwhelming.
Well, future brides and grooms, let's just chill for a sec. I've come up with a list of 10 creative ways to cut costs in just about every aspect of the wedding process, so you don't have to go broke before you start your life together.
It's definitely possible to plan a spectacular wedding for every taste, in every budget. These tips will also give your wedding day a trendy, fun and individual vibe that sets it apart from the rest:
1. Trim your guest list.
Gone are the days of inviting people just because you have to. I'm not telling you to cross Great Aunt Betsy off the list. You don't, however, have to invite work friends unless you hang out with them socially. And the friends you try to keep in touch with, but they barely reciprocate? Cross them off.
There's a big difference between having 100 guests and 50 guests, so choose wisely. A small, intimate wedding is just as stunning, and it makes it easier to really enjoy your guests. It's also much more affordable than hosting a large wedding reception.
2. Rethink your dress.
Every bride should absolutely fall in love with her dress. If you are savvy with your shopping, you can totally find a dream dress for less! It's certainly not all about the price tag when it comes to finding the right choice for your big day, so let's do this, girlfriend.
In addition to scouring designer sample sales, be sure to check out your mother and grandmother's attic or cedar chest. They are bound to have some gems tucked away. Visit vintage shops, too. Dresses can be altered to fit your style for a fraction of what a new dress may cost. Sleeves can be cut off, necklines can be changed and accessories can be added.
A repurposed dress will be unlike any other. Your look will basically be a designer original, never before seen on any other bride or in any magazine. Pretty chic, right?
You can also use Rent The Runway for your big day, which will save you tons of money, and you'll still look so fabulous.
3. Create a Pinterest board for your flower arrangements.
When it comes to flowers, Pinterest is your go-to source. It's time to create your wedding flower board for inspiration. It's all about the details and planning it out.
Flower bouquets and centerpieces can be exorbitant. With a little careful planning and creativity, you can have spectacular table decorations and bouquets at a fraction of the cost.
Vintage, mismatched vases and candles (several clustered on each table) can be a spectacular look, and grocery store bouquets can look amazing if chosen wisely. Visit your local dollar store to find hidden gems. They may even have trendy mercury glass vases!
4. Beer, wine, prosecco and sangria work just fine.
Limit the bar to a more affordable selection. Let's be real here: Every wedding guest loves an open bar. But why not have a selection of beer, wine, prosecco and sangria to choose from to save money? It works just as well and keeps everyone happy. Seriously, who's going to pass up a refreshing glass of sangria?
A collection of fun, creative, mismatched glassware from tag sales and estate sales can be a spectacular touch to add. And if you opt for a brunch or afternoon picnic or lunch celebration, a limited selection is that much better. Don't forget, if it's a small guest list, you don't have too many accessories to buy. You can also keep the glassware for future entertaining.
5. Have a dessert buffet instead of an enormous wedding cake.
Having a grand, traditional wedding cake makes a beautiful statement. But when it comes down to dessert time, not all of the guests even eat the wedding cake. A dessert table with an assortment of pastries and divine treats may be the way to go for some couples.
Some larger food chains actually make tiered wedding cakes. If you decide on a simple, small wedding cake (just for the tradition), surround it by a varied selection of fun desserts. The dessert buffet will look extremely appetizing, and it will be more cost effective, too. How divine does this dessert table look?
6. Think outside the box for your venue.
Check out every potential location within a reasonable distance, including farms, gardens, beaches, vineyards, lakes, oceans, parks, barns, museums, meadows, backyards and galleries.
A large tent rental (with sides) will protect you from the weather if necessary, and it can be decorated beautifully. The surrounding ambiance of white lights, tulle, candles and vintage glassware creates a spectacular, elegant vibe like no other.
7. Be creative with music.
For ceremony and cocktail music, check out local students who perform for reasonable prices. A cellist, pianist, guitarist or harpist would be a perfect touch without breaking the bank.
For the reception, a good playlist and speakers may work, depending on the venue. Or, you can be extremely unique and consider purchasing a replica vintage record player and have a friend in charge of playing actual albums that you love. Going vintage is always fun, and the guests will adore it.
8. Hire a friend to take pictures.
All you need to capture the incredible memories and snap away throughout the day is couple of friends with good cameras. It will save you more money than hiring a professional photographer would. You can even leave Polaroid cameras on the reception tables for guests to take photos and pin up on a board.
Eversnap is an awesome online service that offers a personalized site for your big day. Based on the package you choose, you create an album online.
Your friends, family and guests can take pictures throughout the entire wedding process and upload them to the album they choose, whether it's your engagement, bridal shower, bachelor party, bachelorette, rehearsal dinner, ceremony or reception. Down the road, when you can spare the extra expense, you can compile all of the pictures from the various albums and order your own wedding album.
9. Create a wedding website.
Save on invitations and other communications by creating a wedding website or blog. You can post and manage your wedding invitation, registries, RSVPs and all sorts of information and updates. It's a super trendy idea, and you can even give your site's design a fun, original flair.
An ongoing scrapbook section is fun to maintain, and you can display everything from engagement pictures to small features on your entire bridal party. This will make your overall wedding experience a bit more personable and fun.
10. Ditch the limo.
I'm going to be super honest here: Nothing adds a more charming and unique look to your wedding day than your friend driving you and your hubby with his or her vintage car. It adds so much style and presentation to your special day, and it looks incredible in pictures.
When it comes down to it, list your priorities and decide on the parts you don't want to cut back on. Save money in the areas that you can, and you'll certainly be on your way to a beautiful, affordable wedding day.