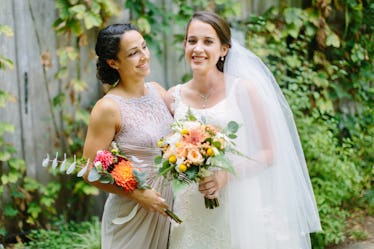 4 Zodiac Signs That Make Terrible Maids Of Honor, So Watch Out
If you've been planning the wedding of your dreams since childhood, you may already know who you want to be leading your #bridesquad. From organizing the bridal shower to always having a bobby pin on call — being the bride's right hand lady is no small feat. Whether you're thinking about your wedding party or just daydreaming about the future, it may be helpful to consider which zodiac signs typically make the worst maids of honor.
Though these signs can be great leaders and trendsetters, they may not be the best at planning someone else's wedding. From sweating the small stuff to wanting the attention all to themselves — some signs may be better wedding guests than maids of honor. Of course, no one knows your wedding party better than you do and astrology doesn't need to determine how you plan your big day. Whether your bestie is going to be your maid of honor no matter what or that space has been saved for your sister — your wedding day is going to be amazing, regardless of their zodiac signs.
Still, if you're just a teensy bit curious, these four signs historically may not make for the best maids of honor.