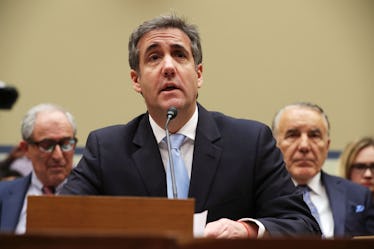 The 7 Biggest Moments From Cohen's Hearing Will Have You Reaching For The Popcorn
Chip Somodevilla/Getty Images News/Getty Images
Well everyone, the day we had all been waiting for has finally arrived. On Wednesday, Feb. 27, Donald Trump's former lawyer, Michael Cohen, sat down in front of the House Oversight Committee to spill some serious tea, and it was piping hot. In case you couldn't tune into this juicy ordeal, these are the seven biggest moments from Cohen's hearing, so peruse and enjoy.
Across the nation, people tuned in to watch Michael Cohen testify in front of Congress about his time working with his former client, President Donald Trump. During the testimony, Republicans and Democrats both questioned Cohen's relationship with Trump, and his experience working with him over the years. The anticipated event kicked off at 10 a.m. ET on Feb. 27, and it was hours of endless questions, accusations, and lots of shade-throwing.
Truth be told, the list of details Cohen disclosed is too long to note, but there were a few moments that really struck a chord. So, if you're interested in political drama but would rather opt for the Cliffs Notes version, I've compiled a short list of some of the biggest takeaways from Cohen's testimony. So everyone, take a seat, sit back, relax, and enjoy the show.